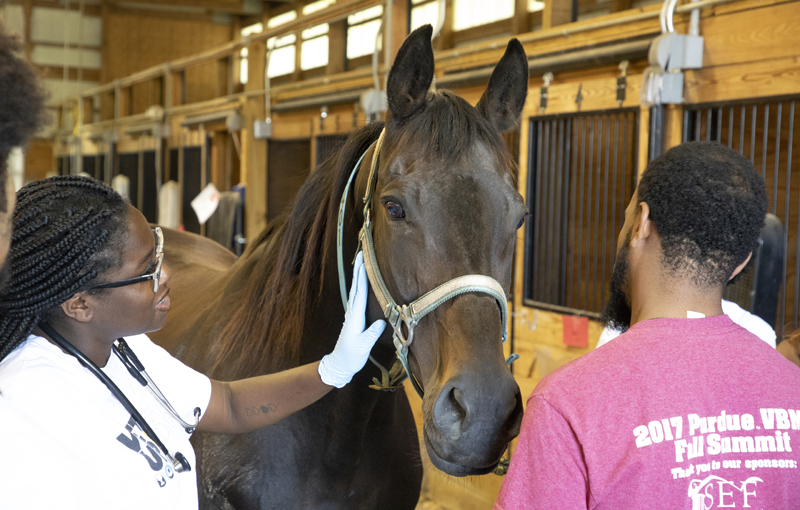 Four veterinary colleges have received national recognition for their demonstrated commitment to and advancement of diversity and inclusion within the profession.
Purdue University College of Veterinary Medicine (PUCVM), Louisiana State University (LSU) School of Veterinary Medicine, Texas A&M University College of Veterinary Medicine & Biomedical Sciences (CVMBS), and The Ohio State University (OSU) College of Veterinary Medicine are among 46 total recipients of the 2020 Health Professions Higher Education Excellence in Diversity (HEED) Award.
The accolades are presented annually by INSIGHT Into Diversity magazine, a diversity-focused publication in higher education.
"The HEED Award process consists of a comprehensive and rigorous application that includes questions relating to the recruitment and retention of students and employees, continued leadership support for diversity, and other aspects of campus diversity and inclusion," says the magazine's publisher, Lenore Pearlstein. "We take a detailed approach to reviewing each application in deciding who will be named a recipient. Our standards are high, and we look for institutions where diversity and inclusion are woven into the work being done every day across their campus."
PUCVM's dean, Willie Reed, DVM, PhD, says the honor reflects the college's "deep and abiding commitment" to diversity, equity, and inclusion (DEI). This includes several programs, aimed at providing opportunities and support for equity-minded individuals from disadvantaged backgrounds to enter the veterinary profession.
"This award makes an important statement about the way in which our college doesn't just talk about diversity and inclusion, but lives it," Dr. Reed says. "The Purdue University College of Veterinary Medicine is playing a leadership role nationally with model initiatives that advance diversity and inclusion in veterinary medicine."
Likewise, OSU College of Veterinary Medicine was lauded for its effort to recruit underrepresented groups and first-generation students into the veterinary profession by reducing possible barriers within its foundation.
"We know diversity promotes a culture of inclusion that understands and appreciates the world beyond our own individual perspective," says the college's dean, Rustin Moore, DVM, PhD, Diplomate ACVS. "Our goal is to foster an environment for working, learning, and serving, where each member of our college can thrive both professionally and personally."
Texas A&M CVMBS, which is marking its fourth consecutive HEED Award win, received praise for its integrated, inclusive curriculum.
"CVMBS operates like a jigsaw puzzle, with every member of our community serving as an important piece that, when we come all together, creates a beautiful picture," says the college's dean, John August, BVetMed, MS, MRCVS, DACVIM (SAIM). "We take very seriously the responsibility of fostering an environment that supports everybody's success and continuing to look for new areas in which we can improve."
To view a complete list of this year's Health Professions HEED Award recipients, click here.