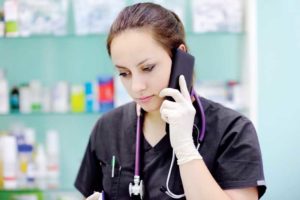 Last spring, I attended one of those drug company-run boondoggles designed to "thank veterinarians" for their support (ahem… their large purchases) and impart practice leadership skills. While there, I met an up-and-coming Chicago veterinarian who confided his most vexing problem: "I spend way too much time on the phone."
This guy told me he's at work late every night making phone call after phone call. He has no idea how to handle what he considers an excessive amount of telephone time—upward of three hours a day. "How do I responsibly treat my clients to the contact time they deserve without surrendering my life so completely?"
I was right there with him. While I spend a total of about two hours on the telephone every day, I find myself coming in on days off to keep callbacks from piling up. What's more, I've been playing catchup on Saturdays as of late. It's an increasingly time-intensive task. This is what my Saturday afternoon looks like:
Returning phone calls and making callbacks from the day's list
Calling clients I'd not managed to reach during the week, hoping they'll pick up on their day off
Making condolence calls to clients whose pets have passed
Following up on discharged patients from the previous week
Calling clients whose pets recently presented to the ER or saw specialists
Checking in on some of my chronic cases (I keep a running list and try to check in)
Returning specialists' calls or cold calling them to check in on a patient's progress
It's a lot of telephone time, which begs the question: Did I always make this many calls?
The answer is a solid "No." I've never spent so much time on the telephone. But was it a limited thing? So I polled a few more colleagues. After chatting with a handful of veterinarians from different parts of the country (practice owners and associates, alike), it was confirmed. The lengthier telephone time issue is definitely a thing.                                                                              
What's changed?
But why the increase in telephone time? It's not like the telephone represents new technology. You'd think we'd have found new and better ways to communicate, what with all those time-saving, productivity-enhancing apps and whatnot. But nope. The crick-in-the-neck telephone still holds sway.
Our clients are becoming more knowledgeable. They're spending more money. They have higher expectations, which comport with their higher degree of emotional investment. And that means they require more information, more explanations, more choices, and more hand-holding.
It was inevitable, if you think about it. It only makes sense they'd demand more from us, including our time. Given our clients have to manage busy lives (in part to help pay for their sizable veterinary bills), getting them on the phone is often the only opportunity they have to connect with us.
But why the phone?
Communication has changed so much over the past 20 years, what with email and social media. Nevertheless, the telephone has remained a steadfast desktop staple. Sure, some of us use our cell phones to connect using blocked number functionality (or—egads—even our "real" digits), but the landline's reliable audio conveniences combined with the simultaneous need to access medical records means we're often stuck at work while we complete our telephonic to-do list.
What's a time-strapped, lifestyle-protecting veterinarian to do?
Keep it short and sweet, for starters
It's clear we have to change our business practices to make allowances for the time we take on the telephone. To be sure, we've got to hone our communication skills to ensure we don't spend excessive amounts of time talking to needy, time-greedy clients, but that's only part of the solution. Addressing telephone time as a business priority needs to happen now—before we burn out.
Here are some solutions
I propose we start implementing in our work lives and as part of our mentorship of those who enter into the profession after us. Some require smart decisions from those who run our practices, but most are doable for even the freshest-faced associate in need of some time relief:
So how do you cut your callback time in half (or seem like it)?
Keep a running list of all your phone calls on your device of choice. Make sure you always have ready access to patient files when you address your list, lest you end up working double time to annotate separately.
Prioritize calls numerically in order of importance and time sensitivity. (I use Evernote because it's so great for so many things, including organizing my veterinary research, recipes, travel, knitting patterns, favorite hair colors, and more.)
Include the primary reason for the phone call in your notes.
Add a note indicating how much time you'll dedicate to the call and keep track of how long it took. (Play a game: Try to make each call a little shorter than the previous one.)
Demand your practice management software include a telephone call management module in its next iteration. Some are starting to take steps down this path to help us not just keep track of our calls and annotate communication, but to prioritize and catalog them, too. I predict most will have assimilated this functionality in five years. (I mean, Excel and Evernote are great and all, but must I keep two screens open?)
Make your easier calls in between appointments (if you feel it won't stress you out more than doing them all later).
I find this makes getting out of work "on time" easier.
If it's appropriate (it almost always is), let your clients and other callees know you have limited time. Indicating with your tone of voice and speed of speech is one way. Explicitly stating your time limitations is another, perfectly acceptable way.
It's OK to get right to the point. This is not a social call—clients get it. And never let yourself get sucked into a meaningless segue.
Dedicate one or two staff members who you can delegate some of your low-priority calls to. Train them well. Have them sit in on some of your call sessions. This makes things so much easier when you're impossibly time-stressed and also helps loads when you go on vacation or take a personal day.
Always smile when you're on the phone. Gaze at a picture of your favorite pet or next vacation getaway, if it helps. It makes the time fly by faster and your smile translates over the phone so your tone is positive, not tortured.
Use the right tools. A headset is your friend. It may feel like you're in a 1990s thriller while it's on, but you'll thank me for this one. First, it makes it easy to hear. Second, your hands are free to write or type. And best of all, crick-in-the-neck begone!
Get your boss to understand your dilemma. That'll make it easier for you to implement the above recommendations with greater ease.
Divert to email when possible. While less personal, this tactic can do the trick for many time-strapped pet owners. Ask all your clients which method of communication they prefer to help identify these people and earn yourself some flex time.
Set expectations. If you must email, be sure to tell your clients up front. And if you do become adept at delegation, try to let them know your technician will be calling (introduce them in person, if possible).
While this issue may not seem so emergent to you just yet, it definitely has all the makings of a solid trend, one that's likely to factor into the salient issue of burnout. Although you may not feel it now, I predict it's on your flight path. After all, your time is valuable and you deserve to have a Saturday afternoon for doing whatever it is that keeps your life as meaningful and stressless as it can possibly be.
Patty Khuly, VMD, MBA, owns a small-animal practice in Miami and is a passionate blogger at drpattykhuly.com. Columnists' opinions do not necessarily reflect those of Veterinary Practice News.