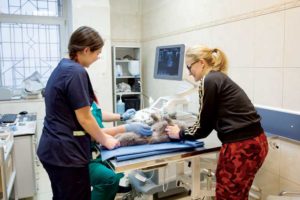 Anthony J. Fischetti, DVM, MS, DACVR, department head of diagnostic imaging at the Animal Medical Center in New York, had just finished his shift.
It had been an odd day; two dogs that had turned yellow had been brought into the clinic.
The first patient, an older dog, had a tumor at the entrance of the gall bladder into the intestines—a common bile duct obstruction.
The second patient had collapsed, experiencing diarrhea and vomiting. "I used the ultrasound to diagnose that it wasn't the liver," said Dr. Fischetti. "It turned out the dog was hemolyzing."
An old, corroded coin in the dog's stomach was causing zinc toxicity. Thanks to the ultrasound images, the endoscopist retrieved the coin and the dog improved.
Fischetti, who also is president of Veterinary Ultrasound Society of the American College of Veterinary Radiologists (ACVR), as well as other experts, say ultrasound is a safe and simple way to get more information on ailing patients.
"I think the real value of ultrasound is its noninvasive nature," said Nathan C. Nelson, DVM, MS, DACVR, a clinical associate professor of radiology at the North Carolina State University College of Veterinary Medicine.
Why use ultrasound?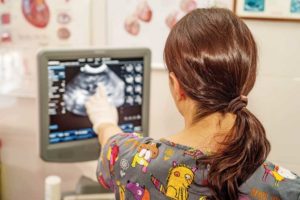 Key considerations for adding ultrasound to a practice are accessibility, a low cost of entry, and "it can answer a lot of questions for us," Dr. Nelson added.
"When somebody is thinking about getting an ultrasound machine, it's best to think in terms of organs," he explained.
It's great for intestinal foreign bodies, pancreatitis, cholecystitis/mucoceles, hydronephrosis, and urinary calculi, especially within the urethra, said Tony Pease, DVM, MS, DACVR, chief veterinary medical officer of the Western Veterinary Conference (WVC) Oquendo Center.
Dr. Pease recounted an example of a four-year-old cat with chronic, intermittent vomiting. The cat experienced minimal weight loss, but it wasn't doing well.
"Radiographs were normal, but ultrasound found a small piece of ribbon stuck in the small intestine," Pease said.
It was just enough to irritate the bowel, he said, but not enough to obstruct it.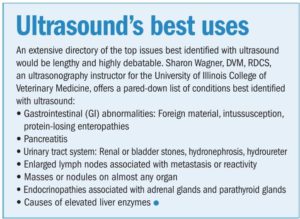 Another example was a two-year-old Labrador retriever that had consumed a tennis ball. A few days later, some of the ball passed, but the dog became sick and started vomiting.
Radiographs showed questionable gas within the pneumoperitoneum.
"On ultrasound, a small piece of tennis ball had perforated the bowel and the pneumoperitoneum was confirmed," Pease said.
He also credited ultrasound with helping to diagnose a six-year-old schnauzer with intermittent vomiting that would last three to five days and resolve.
"The signs kept returning," Pease said. "On ultrasound, there was a well-margined mucocele within the gallbladder that would intermittently flare up. This was removed in surgery, and the dog did great."
These types of stories illustrate the value of having an ultrasound machine, said Michelle Jude, DVM, medical director at Sheabel Veterinary Hospital in Lexington, Ky.
"I do not understand how doctors practice without an ultrasound," Dr. Jude said. "I use mine probably five to 10 times a day."
Splenic masses, gallbladder mucoceles, ascites, urinary bladder stones, and foreign bodies are some of the most common issues she looks for.
"I probably take out three to four spleens with masses a month and take out two to three gallbladders with stones or mucoceles a month," Jude said. "These tend to be high-dollar surgeries in the $2,500 to $3,000 ballpark, so doing six of them pays for my machine."
Tricks of training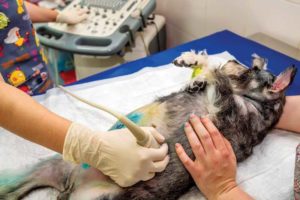 Jude and her staff weren't always so bold about ultrasound. The hospital first incorporated the equipment and then sought expert advice and training to build proficiency.
"Training was hard, I found initially," Jude said. She found a clinician sabbatical at Auburn University for $500 for a week, where students get to scan every dog following the resident with a radiologist to assist.
"In school, in the same rotation, I may have got to do four to six dogs for the week," Jude said. "During my sabbatical, I did at least 40 and had someone shadowing me, which was really helpful. We send all our doctors there so they get more comfortable with ultrasounding."
Fischetti applauded practitioners for seeking training, but suggested practitioners exercise caution, as there are no set training standards—something in his role as president of the Veterinary Ultrasound Society he hopes to help create.
"We are really doing our best right now to develop some sort of standards," Fischetti said. "The majority of us do realize there needs to be some standard in teaching this."
He recommends those buying a machine to start practicing on patients. For example, they could use an ultrasound for a simple spay procedure.
"These are things I think people should do every day so they can eventually call themselves skilled sonographers," Fischetti said.
It is all about taking classes, Pease added.
"Even if it is a four-hour course like we offer at the WVC annual conference or a three-day course you can find at the WVC Oquendo Center, having hands-on experience with guidance will help you learn how to get the images you need and how to send them for interpretation," he said.
The learning process for ultrasound should include continuing education, said Sharon Wagner, DVM, RDCS, an ultrasonography instructor for the University of Illinois College of Veterinary Medicine.
"Several specific continuing education programs are available for veterinarians wishing to learn sonography," Dr. Wagner said. "These are good options for veterinarians in private practice."
Such programs include lectures and lab sessions, as well as hands-on practice and guidance.
"Beyond these programs, practice and study are still needed to gain comfort in machine controls, finding organs, and properly identifying abnormalities when seen," she added.
Wagner mastered his ultrasound techniques while working in human medicine.
"I trained as a human cardiac sonographer while I was a practicing veterinarian," Wagner said. "Taking this route results in a two-year degree and it held me to the standardization of skill and knowledge expected in human sonography. At its completion, combined with years of veterinary practice and surgery, I felt very confident in my technique."