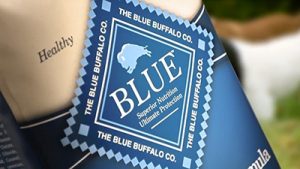 Minneapolis-based food conglomerate General Mills is buying Wilton, Conn.-based Blue Buffalo Co., maker of Blue Buffalo pet food, for roughly $8 billion in cash in a deal expected to be completed by May.
The acquisition marks General Mills' return to the pet food business. The company produced pet food and sold it through pet stores in the 1930s and marketed food for dogs, cats, and birds in the 1950s.
The deal accelerates the General Mills' plan to enhance its growth prospects by diversifying its business through acquisitions and divestitures of brands, said CEO Jeff Harmening.
"The acquisition brings back the growth in the U.S. and growth on a consistent basis," he said.
Blue Buffalo had annual sales of $1.3 billion in its last fiscal year, Harmening said. The overall pet food market generates $10 billion annually, according to Neilsen.
William Bishop Sr. and family founded the company in 2012, and it went public in 2015. General Mills will maintain the company's Connecticut headquarters, and Bishop will remain CEO.
The sale has been approved by both company boards, as well as Invus Public Equities, the Bishop family and Blue Buffalo's largest shareholder.