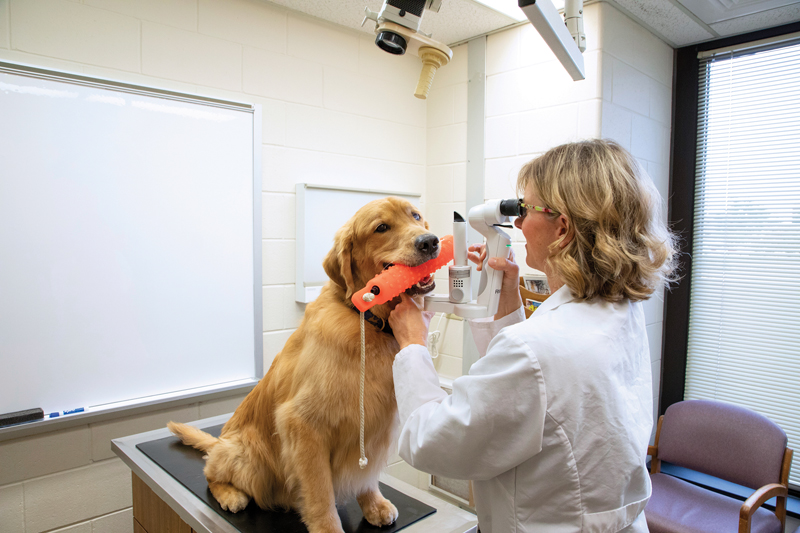 Identifying the genetic cause of a debilitating ocular disease found in golden retrievers may allow for its early detection and future prevention.
This is the focus of a study currently underway at Purdue University.
The research, led by Wendy Townsend, DVM, MS, an associate professor of ophthalmology in the school's department of veterinary clinical sciences, aims to uncover the genetic cause of golden retriever pigmentary uveitis, an inherited ocular disease seen almost exclusively in purebred golden retrievers that can lead to blindness due to cataracts and glaucoma.
Early symptoms of the disease are mild (e.g. redness, drainage) and do not typically present until a dog is well into adulthood, Dr. Townsend says. This means the condition, which affects about 10 percent of senior golden retrievers, can progress into an advanced stage before a canine is examined by a veterinarian.
If the gene responsible is identified, the disease can be detected earlier, which will help breeders know which of their dogs may be carriers and allow them to prevent it from being passed through its bloodline.
"The problem breeders are facing right now is that even if they're being responsible and making good decisions, they don't know their dog is affected," Townsend says. "They can be several generations down their pedigree before they know there's a problem."
Golden retriever pigmentary uveitis is also sometimes seen in cross-breeds, Townsend adds, which presents a particular problem for service dogs.
"That becomes a concern because Labrador and golden crosses are frequently used as seeing-eye dogs," she says. "And because the disease doesn't show symptoms until these dogs are older, they could be struggling with their own vision and you might not even know."
For more information, click here.