For Roy Smith, DVM, it was always about the cats.
Ever since he was a 14-year-old aspiring veterinarian, Dr. Smith knew he wanted to open a feline-only practice that allowed him to treat his preferred species. Fifty years later, his dream has been fulfilled—and then some. Smith owns and operates Central Texas Cat Hospital in Round Rock, Texas, and is the president-elect of the American Association of Feline Practitioners.
"I love our profession and think it's the greatest one in the world," he says, emphasizing his dedication to both his clients and the veterinary community. "We have a lot of challenges coming our way right now to keep it that way, and it's what keeps me going. There are a lot of good people helping out, and I want to do the same for the veterinarians coming along. Pass it on. It's what keeps me going."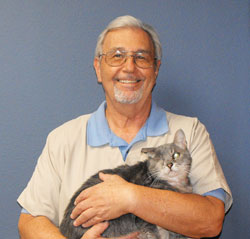 Roy Smith, DVM, with Howie, the stray cat who was discovered near a trash bin with a mangled eye and in a coma. Smith nursed him back to health. The formerly feral cat now calls Central Texas Cat Hospital home.
His efforts caught the attention of the CATalyst Council, an Annapolis, Md., nonprofit organization dedicated to improving the lives of cats through owner education, quality veterinary care, preventive medicine and cat-specific products. The group honored Smith as a CATalysta in 2011.
"A CATalysta is someone who celebrates cats," says Jane Brunt, DVM, CATalyst Council's executive director and longtime colleague of Smith's. "It's a person who fosters the special bond between people and cats. Dr. Smith embodies that as a veterinarian, and we chose to acknowledge him for all the good things he does for cats."
Committed to Cats
Smith began his career in 1962 after graduating from Oklahoma State University's College of Veterinary Medicine in Stillwater, Okla. That's when he moved to the Austin, Texas, area and opened a mixed-animal clinic, focusing predominantly on dairy cattle and horses.
"I started out in mixed practice, and then I gradually evolved into a small-animal practice, dogs and cats," he recalls. "From there I went into internal medicine only, and then from there I went into feline only."
Cats fascinated him, however, well before he earned his credentials.
"A feline-only practitioner is something I've always wanted to be," he says. "When I started working in a veterinary clinic as a young man at 14, I was very interested in treating cats. It was always my goal to eventually evolve into a feline-only practitioner. It took a while to get there, but I've done it."
Cats are a challenge to treat, and that's why he's so drawn to them, he says.
"I love cats," he says. "No two cats are alike. We're just beginning to understand cats and their medical needs. They're very challenging, so they keep you on your toes. They hide things so well that it's a very complex species to diagnose. That intrigues me."
Yet he never forgets that "Every cat has a person attached, whether it's a feral cat or the pampered Persian that comes into the clinic in a high-dollar carrier that's under his practice's good care," says Dr. Brunt, who describes Smith as an "empathetic and compassionate leader."
Dedicated to Community
Fortunately for the veterinary community, Smith willingly shares his gentle leadership style and decades of expertise with his colleagues.
Besides operating a thriving practice with Steven Reynolds, DVM, and a nine-member administrative and technician team, Smith volunteers in his free time, serving on a number of local, state and national veterinary boards and committees. Among them: the Austin/Travis County Humane Society, Capital Area Veterinary Medical Association, Texas Veterinary Medical Association, Texas Academy of Veterinary Practice, American Association of Feline Practitioners, American Veterinary Medical Foundation, American Veterinary Medical Association and the Veterinary Information Network.
"My time is dedicated to veterinary medicine and association work," he says. "I'm on the Veterinary Information Network's board of directors and have been since the beginning. It's near and dear to my heart. I'm also on the AVMA animal welfare committee, which is very important to me, and then working with the AAFP and all the work they do keeps me pretty busy."
Smith is slated to serve as the AAFP's president in 2013. He plans to continue his predecessors' work, he says.
"Cats' medical needs are underserved in this country, and a lot of my predecessors have been challenged by the same thing," he says. "So I'll continue the work to get the owners to understand what cats' needs are and to meet their medical needs."
His dedication means a lot to veterinarians like Brunt.
"He has influenced the veterinary community with his involvement on so many levels," she says. "As a cat practitioner, but also because he's been so active in the local and state associations, the national level, and also through the electronic community through VIN."
Helping Cats Heal
As if his professional and volunteer work weren't enough, Smith also donates his time to help cats in need. He provides veterinary medical support to both the Tuxedo Junction Rescue, an Austin-based no-kill rescue organization, and Shadow Cats Rescue, a rescue group he and his wife, Sheila, started a decade ago.
"Shadow Cats is devoted primarily to special-needs cats and those with medical problems," he says, adding that the group promotes the trap, neuter and return program to help control the community cat population. "Over the past eight to 10 years, we've helped hundreds of cats."
Smith does his part to educate his local community, too, about cat care by offering in-office seminars, maintaining an information-filled website (centraltexascathospital.com) and posting regularly to his practice's Facebook page.
He also houses a brood of seven hospital cats, including a scrappy stray named Howie.
Discovered in front of a trash bin in a rain storm, the cat, which weighed a scrawny 4 pounds at the time, was emaciated, had a severely mangled eye and was in a coma—but he was a fighter. Smith helped the cat regain his strength and surgically removed his eye. Before long, the feisty feral-turned-hospital-cat completely recovered.
"Howie is probably one of the most intelligent cats I've ever worked with," he says of the gray domestic shorthair. "He's a challenge to have around because he's always into things. He's like a precocious teenager."
Whether treating clients' cats, serving on influential boards and committees, or volunteering his time to help cats like Howie, Smith serves as an inspiration to cat owners, practitioners and rescue groups from his Round Rock community to across the country.
"He continues to help his profession, he continues to help his own patients, and he continues to help cats in need," Brunt says. "It's more than just one-on-one, which obviously fuels his passion. He mentors others and leads by example. He is the model for what our profession is."
---
Presidential Ties
Throughout his career, Roy Smith, DVM, has always preferred to treat feline patients, but when a president's pups needed help, he stood ready to serve. During the mid- to late 1960s, when Texas native Lyndon B. Johnson served as the United States' commander in chief, Dr. Smith cared for his beagles, Him and Her, according to his daughter and hospital manager, Cynthia Ivy, even boarding them at their home for a time.
---