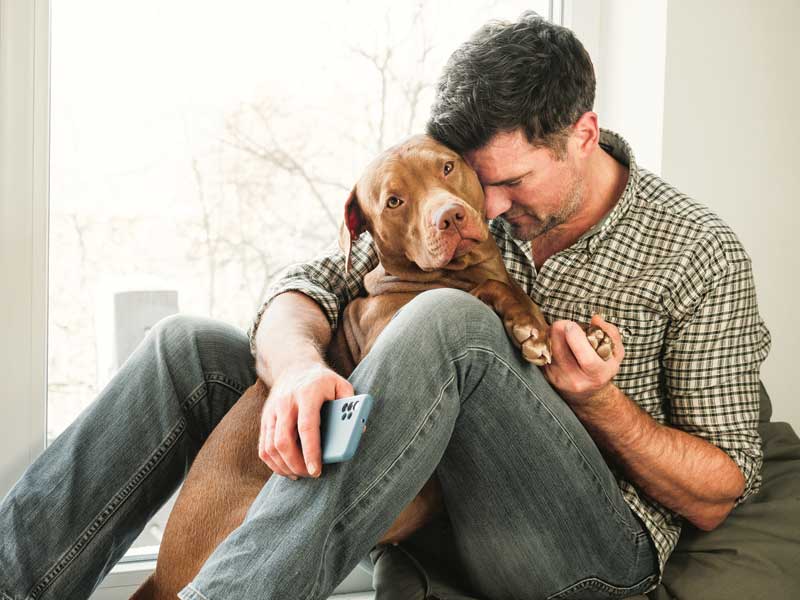 It is never easy, regardless of the circumstances, saying goodbye to a loved one. It can be uncomfortable supporting a family through the loss of their pet, either due to senior aging, illness, or euthanasia. Understanding pet loss and grief can be tough. What follows are a few tools and tips to manage it with grace and dignity, for yourself, your team, and the sake of the pet and the family.
As a note: if at any time during the exercise you feel anxious or uncertain, take a breath. Breathe in the relief and out the anguish. We may be hitting on topics and ideas that touch your heart and it is perfectly okay to feel a shift or two. Know we are in this together, supporting each other as veterinary team members, advocating for pets, and delivering precious service to veterinary clients.
Grab a pen and paper
There may be items you wish to capture or thoughts worth writing out. Writing is a powerful exercise! Consider taking the time to work through each exercise to tap into your understanding and feelings towards pet loss and grief.
Good grief
It is more than alright to grieve; in fact, it is healthy.
Let's face it, nobody likes to be sad, yet the feeling is as equally important as being happy. For appreciation of the good times, we need to have experienced the sad ones. You will notice I did not say "bad," which indicates a wrongdoing. Feelings are neither right or wrong, simply an expression and labeling of our state of being.
Basically, our brains are wired to run from pain—sadness—yet, we are in a profession in which we are exposed to pain—sadness—every day with the pets we heal and those we are unable to mend. Simply, we are unable to save their short, fragile lives.
Grief is a good thing, a healthy thing. It may be hard to deal with those moments in our personal lives or to watch others going through the stages of pain and grief. Perhaps understanding the process will help.
When can grief be healthy? This seems like a legitimate question. Grief is a natural and normal response to loss.
Anyone can feel loss, and it may be felt to various degrees for various reasons:
Losing a job
Losing a loved one
Losing a relationship
Losing a pet
Losing a material object
Moving to a new community
Grieving allows us to "free-up" energy attached to the person, object, or pet. It provides an opportunity to reflect, acknowledge, understand the move into the next energy or relationship, or attachment. It is important to realize grieving is not forgetting.
Good grief is a feeling of acceptance to remember the importance of the relationship and the loss, but with a sense of peace, not pain or regret.
The benefits, the healthy part, of going through the grieving process, include:
Letting go of what hurts and choosing, instead, to keep only the good memories.
Creating closure to make peace with it.
Healing begins during the grieving.
Acceptance of things you cannot change.1
Pain and sorrow, defining the grief journey associated with pet loss, may help it to be tangible.
No two people will experience grief, pain, or sorrow the same. It is based on variables related to ancestry, community, family dynamics, and the way our body functions. There is no one blueprint for how the grieving process will unfold. It is neither right nor wrong, it just is.
The pain and sorrow may manifest differently to include, but certainly not limited to:
Sleep and appetite disturbances
Anger and irritability
Apathy and withdrawal
Guilt and numbness
Intense sadness and tears
Loneliness, loss of meaning
You may be familiar with the statement, "What we resist, persists." When people resist the expression of pain or sorrow, the feelings can seem to gain a stronghold, blocking the healing. The same is true for your clients and their grieving. It may bring them comfort to hear your gentle words of empathy.
Consider the feelings you have experienced in the past. We have all felt loss in the past and will experience it in the future.
Exercise 1
Take a few moments to write out feelings associated with grief, or even the grief you saw others go through. We are not wanting to block the feelings; simply recognize them, labeling them.
Depending on a person's level of life experiences, grief will manifest differently. It may be long lived, expressed outwardly, or processed inwardly.
All expressions are correct for the person going through it. We are not to judge or anticipate the timing, simply support, and recognize the grief for what it is, natural and normal.
The grief journey may include, but not limited to:
Denial, a common defense mechanism to ease the pain.
Anger, an expression to hide resentment.
Bargaining, the "if only" game, often postponing the grief.
Depression, which may be experienced as the "silent stage," living in the past without a vision for the future.
Acceptance, moved past the grief and loss.2
It is okay to feel what you are feeling. Normalizing the grief journey is also healthy. It is okay to mourn with your families.
What may appear to be awkward is showing of emotions and to what degree. In years past, it may have been appropriate for veterinary colleagues to remain "stoically professional," curbing their expressions of strong interpersonal relationships and connections. This may not be the case, now.  It is interesting to consider how times are shifting and pet loss is being accepted, slowly, but surely.
Although pet loss is not legally a protected category of family leave, some human resources consultants encourage businesses to explore ways to give workers time off to heal, such as flexible paid time off policies, writes Elisa Boxer in her forward-thinking blog, "More Companies are Offering Time Off for Pet Bereavement and It's Increasing Loyalty and Productivity."6
I am hopeful pet owners will make big changes in our approach and delivery of pet care and loss. I remember supporting families and friends during the end-of-life care and being vulnerable with them; crying with them as we hugged, after lighting a ceremonial candle, and witnessing the last exhale as their precious companion's spirit transitions.
It is okay to mourn with your families
It is okay to sigh and cry with them. It is alright to sit with them as they tell their stories or ask their young children to witness the moment. At first, you may not realize the gift we are giving them, to be present and attentive. To share in the moment.
It truly is a gift.
Exercise 2
Please take a moment to write out some of your memorable experiences with clients and families. Locate your thank you cards. I bet most of the cards you receive are in gratitude of the end-of-life care delivered with compassion and care.
Name it to tame it 
By naming what you are feeling (or your mood) can help to tame it. Naming feelings or mood as a frustrating, sad, uncomfortable, or other descriptions, helps diffuse it. Putting the feeling into perspective to move into it, acknowledge it, and settle into it with acceptance.
Awkward to be in the presence of someone who may be grieving.
Uncomfortable to be a part of the service.
Apathy or indifference to their (your client's) grief.
Sad to see others sad.
What is difficult is to realize every one of our patients will be passing in a short period of time. Their lives are simply shorter, on average, 10 to 15 years. For each client, they could conceivably experience the loss of a pet multiple times in their lifetime, yet, they choose to bring another furry friend (or fish, or horse, or reptile) into their lives.
It is a choice to love and lose. It is a choice to be friended by a spirit meant to show unconditional love and loss. It is our ability to help them in those final moments that we are not used to accepting.
When we begin to name our feelings, possibly our inability to accept the truth of their pets' short lives, which is when we can best embrace the gift we offer as veterinary professionals. It is neither in rejecting nor succumbing to the grief, rather it is simply stepping into it to deliver compassionate care. It is in accepting the circle of life and cherished moments that we can see the rewards.
No other medical profession endures the delivery of end-of life care and euthanasia, yet we are rarely taught how to prepare in our studies.
Exercise 3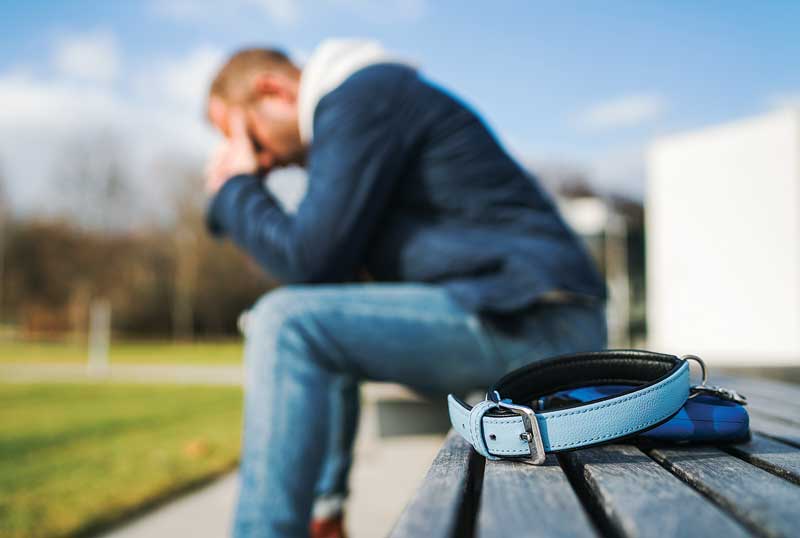 As you consider the way you feel when engaging with families during end-of-life care, write them down, now. Don't over think this, simply allow for the words to flow to the paper.
Empathy is defined as having the same experience as another person and feeling the same pain, anguish, joy, exuberance as they did. For example, if you lost a beloved pet and there was a family in the exam room who recently lost their beloved pet, then you could empathize with them.
Heart and head talk
As you read through this article, I am essentially popping back and forth between heart talk and head talk. You are receiving memories and stories from the heart and the acknowledgement of surveys and statistics to support the informational shift. Your clients may need a similar volley to support their experience and grief during this time.
As veterinary professionals, we are driven by the medicine, the head talk. As we comfort and embrace the grief and end-of-life care, we are better off speaking from our heart. This can happen through consciously volleying between the two, head and heart. When you find yourself talking from your head, "It will be alright, we understand renal disease can be an illness impacting a large percentage of cats Fluffy's age," it may be better to reframe the delicate conversation.
Speaking from the heart may sound like this, "It will be alright, we will be here with you every step of the way, to help you and Fluffy through this."
Feelings may be heightened at this time (yours delivering end-of-life care and that of the client and family). Words can either uplift or accidentally cause more harm. Please assess your choice of words and how to deliver them.
Read your client's body language. Is it saying I am defeated, distraught, in despair, grounded, in acceptance, or something different? Clue into their facial expressions, their breaths, and even the way they are holding eye contact with you. All of these are subtle clues for you to appreciate and acknowledge.
Sometimes you can see their concern, sadness, and unease. It is perfectly fine to mention what you see. It is a connection to build upon. "I can see you are sad and that is alright."
Heart talk, consider saying
Instead of, "I know how you feel," because you really do not, consider saying, "I have felt a similar pain," because you have lost a loved one, either a person or a pet in your life.
Instead of, "At least you had the 15 years with him," consider saying, "Their lives are just so precious."
Instead of, "It will be alright, we understand renal disease can be an illness impacting a large percentage of cats," consider saying, "It will be alright, we will be here with you."
Now is not the time to talk about your religious beliefs. Do allow for the client and family to explore their own traditions, and create a safe space for them to create that ceremony. Remain calm and compassionate while in their presence (even though you may be busy as all-get out!). Now is the time to focus on this client, with this pet, in this moment. Be present in all ways.
Empathy builds connections through an understanding without attempting to fix it. "I am glad you shared that with me," regardless of what "that" is. Within our topic, "I am glad you shared your feelings (in relationship to your pet) with me." An example that is often said and may drive disconnection is, "Sorry for your loss."
Take some time to write down a few of your own heartfelt and head-talk conversations. Write down a few sentences you want to say.
Team debriefs support veterinary team members working with families before, during, and after pet loss. We will define the positive impact of team debriefs.
As mentioned, only in veterinary services will you find the delivery of euthanasia (although some states are beginning to allow within human services). The term euthanasia is defined as "good death."
My first day volunteering in a veterinary hospital at the age of 16, I helped the veterinary technician euthanize a wild bunny. The small creature had been hit by a car, and a client brought the bunny in for us to end its pain and suffering. It was the most humane thing we could ever do. I have seen euthanasia in the same light through all these years, as a humane, gentle way to end pain and suffering, without judgement.
For our clients, there may be additional guilt into the choice and when is the "best time." This is why it is important to build the connection with them during end-of-life care; to help volley between the head and heart talks. This can include discussions in quality of life, anticipatory grief, possible ceremonies, and memorialization. Now we are the healer and the funeral coordinator.
No other healthcare professional (human physician, dental hygienist, laboratory technician) is asked to blend the healing and funeral services, but we do in veterinary medicine. Therefore, debriefing difficult, traumatic cases and euthanasia is so important.
For veterinary professionals, simply being a healer can be the cause for compassion fatigue and burn out. As caregivers (yes, you are a caregiver!) taking care of yourself is of highest priority. In a way to embrace self-care, contemplate implementing veterinary team debriefs. These may be called team huddles, team pulse, or simply, debriefs.
Teams that do structured retrospectives or debriefs are  typically 25 percent more effective.9 The basic structure of a retrospective or debrief is to surface the following in a brief meeting of the whole team. Consider the approach of Nil Davis in the "All the Responsibility" podcast:10
What went well (you'll want to keep doing these things).
What could be improved (went okay, but could be better).
What went badly (you want to stop doing these things or concentrate on doing them better).
A focus for the next period/sprint/month/quarter (One or two things to focus on).
Now what?
Your head may be spinning with ideas to implement or concerns in how to improve your skills in supporting your grieving pet owners or even team members. You are supported in ways to continue to grow your interpersonal skills and adapting your approach in empathy and developing a strategy that works for you and your team.
Through the exercises, you may have realized you are doing better than you thought you were.
Or you may have a new understanding on ways to improve, equally as exciting!
To recap the powerful exercises:
Exercise 1: Take a few moments to write out your feelings associated with grief or even the grief you saw others go through. We are not wanting to block the feelings, simply recognize them, labeling them.
Exercise 2: Please take a moment to write out some of your memorable experiences with clients and families. Locate the thank-you cards because I bet the majority of the cards you receive are in gratitude of the end-of-life care delivered with compassion and care.
Exercise 3: Take some time to write down a few of your own heartfelt and head-talk conversations. Write down a few sentences you do want to say.
Upon reviewing the exercises, where are your strengths? Where are your weaknesses? How can you fill in the gaps?
Rebecca Rose, CVT, certified career coach, has a diverse background in the veterinary community. Her most current role includes outreach specialist for Lap of Love Veterinary Hospice. Rose's enthusiasm for professional development in veterinary medicine is contagious, as she encourages and supports veterinary teams in reaching their highest potential. She can be reached via Rebecca@LapofLove.com.
References
8 Reasons grief is good; Lyndsie Robinson, 2011 https://allwomenstalk.com/reasons-grief-is-good/
What you should know about the stages of grief; Kimberly Holland, reviewed by Dr. Timothy Legg, HealthLine. July 2018 https://www.healthline.com/health/stages-of-grief
Seven Care Essentials While Grieving the Death a Pet; Adam Clark, LCSW, AASW, Psychology Today, https://www.psychologytoday.com/us/blog/animal-attachment/201702/7-self-care-essentials-while-grieving-the-death-pet
Pet Bereavement-Understanding Loss and Euthanasia Part 1, Dr. Susan Dawson, Oct 2013, Veterinary Expert, http://www.theveterinaryexpert.com/people-and-pets/pet-bereavement-part-1/
Pet Bereavement-Understanding and Coping with Grief Part2, Dr. Susan Dawson, Oct 2013, Veterinary Expert, http://www.theveterinaryexpert.com/people-and-pets/pet-bereavement-part-2-understanding-and-coping-with-grief/
More Companies are Offering Time Off for Pet Bereavement and It's Increasing Loyalty and Productivity, Elisa Boxer, Sept 2017, Inc https://www.inc.com/elisa-boxer/more-companies-are-offering-paid-time-off-for-pet-.html
How Millennials Spend On Their Pets, Carly Lintz, Pet Business, May 2018, http://www.petbusiness.com/How-Millennials-Spend-on-Their-Pets/
Distinguishing Mind from Heart; Which One are you Listening To? Huffington Post, HeartMath LLC, Dec 2017 https://www.huffpost.com/entry/heart-mind_b_2728398
Do team and individual debriefs enhance performance? A meta-analysis; Scott Tannenbaum and Christopher P Cerasoli, NIH. https://www.ncbi.nlm.nih.gov/pubmed/23516804
Retrospectives-What Went Well, What We'd Like to Improve, All the Responsibility Podcast, Nils Davis, https://alltheresponsibility.com/retrospectives-went-well-wed-like-improve-2016