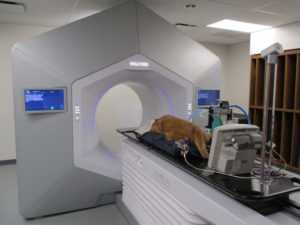 Texas-based Gulf Coast Veterinary Specialists (GCVS) has opened its new veterinary practice after its previous hospital was severely damaged during Hurricane Harvey.
The new hospital replaces a temporary location set up in the wake of the 2017 storm.
"We are finally at a stage where we can actually celebrate," says Ryan Buck, group president for Compassion-First Pet Hospital's Texas clinics. "While we have continued to provide care to the area pets, our people have been displaced and it is an important moment for us to all be under one roof."
The new GCVS hospital will staff more than 50 veterinarians, including 30 board-certified specialists. It will continue to provide emergency care all year-round 24-7. The new building features 39 exam rooms, nine operating rooms, a 1.5-Tesla magnetic resonance imaging (MRI), 64-slice computer tomography (CT), digital radiography, and a varian halcyon linear accelerator.
The hospital specializes in:
• anesthesia and pain management;
• avian and exotics;
• cardiology;
• dentistry and oral surgery;
• dermatology and allergy;
• diagnostic imaging;
• 24-7 emergency and critical care;
• internal medicine;
• neurology and neurosurgery;
• oncology;
• ophthalmology;
• rehabilitation and fitness;
• sports medicine; and
• surgery and orthopedics.