A modern dairy plant sits down the road from where U.S. Army Capt. Ryan K. Miller, DVM, is stationed. Built five years ago near Kabul, Afghanistan, the plant was to produce pasteurized milk and ice cream and create jobs for local Afghans.
But after just three years, the plant shut down because the cooperative no longer could afford the diesel fuel needed to keep the factory running.
The idled plant is a daily reminder of the challenges that face Dr. Miller and the multinational coalition as they rebuild and improve Afghanistan's infrastructure and economy. And it signals a shift in focus, he says, from expensive, sophisticated agricultural projects to simpler, sustainable ones that better suit the needs, capabilities and culture of Afghan farmers.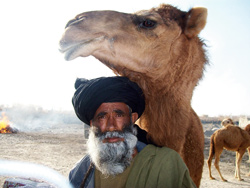 An Afghan man requesting treatment for his sick camel turns up after a training seminar in Helmand Province.
"The [dairy plant] was great, but now we can see that it was too complicated and too expensive to operate and make a profit," says Miller, who works with the army's Cooperative Medical Assistance unit, which provides technical advice on livestock and agriculture across Afghanistan. "In the last couple of years we've changed our focus to smaller projects. It's the grassroots kinds of things that are going to change this country."
Making a Difference
Miller, 36, arrived for his six-month deployment in April, the second time he was sent to Afghanistan since enlisting in the Army Reserve in 2006. A 2000 graduate of Kansas State University's College of Veterinary Medicine, he was in private practice in Texas when he joined the Reserve to "do something more" in remote, developing countries.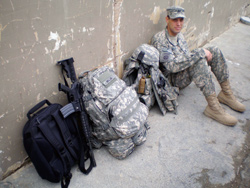 Army Capt. Ryan K. Miller, DVM, in Afghanistan
Miller sometimes collaborates with groups such as the Dutch Committee for Afghanistan, which trains paraveterinarians to handle common livestock diseases. More often, though, he goes out alone with one or more of his four interpreters. (Multiple interpreters are needed because of the many dialects spoken.)
The work is low tech. Miller meets with local officials and gives seminars to farmers and paraveterinarians on animal nutrition, birthing and preventive treatments such as deworming and vaccinations. The goal is simple: Help farmers produce more meat, milk and wool through heavier, healthier animals.
"To our eyes, the animals seem undernourished," Miller says. "But you have to realize they feed [animals] whatever they have left over. There are no pastures out there."
Solutions include increasing the nutrient value of wheat straw and developing higher-yield crops and crop byproducts that humans and animals can both eat.
Miller also checks local markets to observe sanitation and slaughter techniques, then tries to teach safer practices. And he sometimes advises on village projects, such as encouraging farmers to use trellises to increase grape production, or assisting workers who want to process apricots for export to Dubai.
But progress is slow. Farmers often mistrust both the government and outsiders, and they hesitate to buck tradition.
Afghan farmers "have been doing things the same way for thousands of years," Miller says. "They grow the things they know they can grow and they're hesitant to try new things because if it does not work out, they won't have food."
So a big part of Miller's role is building relationships and trust, an area in which he excels, says his commanding officer, Maj. Michael T. Simpson, DVM. Veterinarians, because they provide needed expertise, are key to reaching the "hearts and minds" of Afghans, he says.
For instance, Miller got involved in a conversation with paraveterinarians about when an animal could be eaten after its treatment for anthrax, Simpson says. The Americans know that Afghans will even eat very sick animals, just because resources are so scarce.
"How do you answer that question, knowing they are going to do it anyway?" Simpson wrote in an e-mail. "This is where Capt. Miller is good at dialoguing with folks on a personal level to help them understand."
Texas Beckons
Miller is due to return to his home in Arlington, Texas, this month to rejoin his wife, Erin Miller, DVM, and their 3-year-old twin sons. He plans to teach at a Dallas community college upon his return but expects to be deployed at least once more, possibly to Kuwait, before his commitment ends in 2012.
In the meantime, he downplays the dangers he and his unit face, even after frequent close calls. (A suicide bomber killed 26 people in one village the day after Miller left.) Often, trips are canceled or postponed because an intended destination is too unstable.
Instead, he concentrates on the successes: acquiring a motorcycle for a paraveterinarian who travels to far-flung farms, teaching the basics of suturing or helping farmers identify early signs of disease.
"Sometimes you see the spark in someone's eyes and you know that guy is going to go home and try something [new], and then if it works, other people will try it, too," Miller says. "If you reach even one person once in a while, that's something."