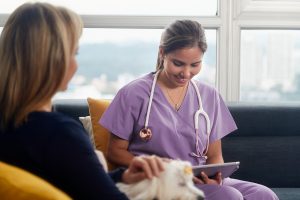 Two companies have joined forces to improve veterinary practices' efficiency and offer them more financing options for owners and pets.
Henry Schein has integrated its dental and veterinary practice management software solutions (Dentrix, Easy Dental, AVImark, and ImproMed) with CareCredit's financing tools.
The partnership will give Henry Schein's customers the ability to process CareCredit transactions, which automatically write back to the ledger, helping save time and minimize human error.
"Integrating CareCredit into our practice management software solutions provides our customers with an easy-to-use tool they can rely on to enhance productivity, minimize downtime, and deliver solutions making it easier for patients and pet owners to finance treatment," said Stanley M. Bergman, chief executive officer of Henry Schein.
To facilitate the process, pet owner information is automatically transferred to the CareCredit application.
As a result, practice teams can spend less time on administrative tasks and are only required to complete a few fields of information and click 'submit' to receive a credit decision within seconds. Additionally, teams can look up a cardholder account number when a pet owner does not have his or her CareCredit credit card available.