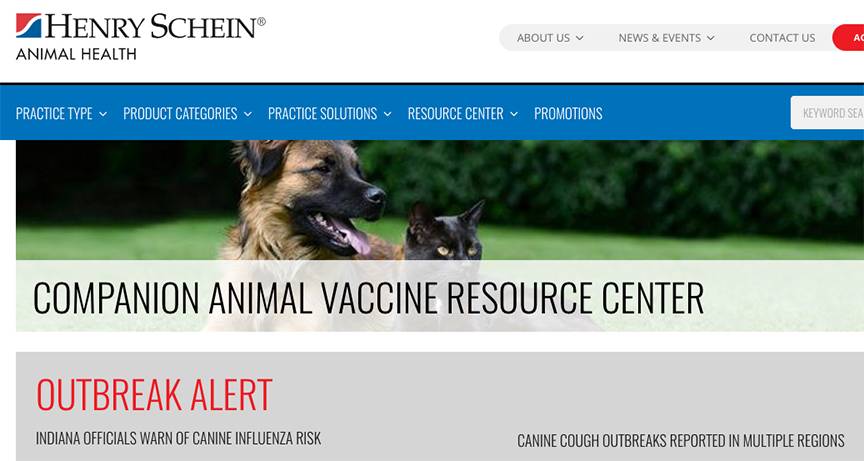 Henry Schein Animal Health has announced the launch of its Companion Animal Vaccine Resource Center, a web-based hub that provides veterinarians with the latest data on infectious diseases in cats and dogs, and critical information about the role regular vaccinations of pets play in protecting animal and human health.
The resource center features the latest updates on the geographic expansion of canine influenza, Lyme disease, and Leptospirosis, which causes liver and kidney disease in dogs and human beings. According to research available on the resource center, vaccination against these latter two diseases is of particular importance, as their spread could impact human health. Additional resource center features include:
Canine vaccination guidelines from the American Animal Hospital Association and feline vaccination guidelines from the American Association of Feline Practitioners;
Information from vaccine manufacturers, including Merck Animal Health, Elanco, Merial, and Zoetis—on product offerings, rebate programs, and warranties;
An interactive quiz to help veterinarians determine how their vaccination practices stack up against their peers; and
A regularly updated calendar of upcoming vaccine-related events.
"We at Henry Schein Animal Health understand that animal health and human health are deeply connected, and that fulfilling our role as the total solutions provider for veterinarians includes providing them with the information they rely on to help pet parents make informed decisions about vaccinations," said Fran Dirksmeier, president, Henry Schein Animal Health, North America. "We will continue to update the vaccination resource center to incorporate the latest data, research, and product information as well as technology and clinical solutions to ensure that veterinarians are equipped with the knowledge they need to help safeguard public health."