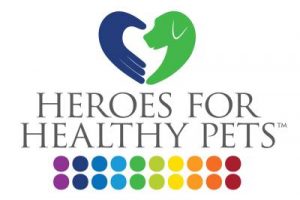 At the 90th annual Western Veterinary Conference, Clorox Healthcare and Merck Animal Health, in coordination with the International Boarding and Pet Services Association, the National Association of Veterinary Technicians in America, Pet Sitters International, VETgirl, and Barkleigh Productions, announced the launch of the Heroes for Healthy Pets Infectious Disease Management Certification Program to educate veterinary and pet professionals on the risks of infectious diseases. The program provides best practices for preventative care, including strategic vaccination and cleaning and disinfection protocols to help maintain disease-free facilities and keep pets healthy.
"The Heroes for Healthy Pets certification program provides essential support to the veterinary and pet professional community to help keep pets healthy," said Michael Cavanaugh, DVM, DABVP (Emeritus), CEO of the American Animal Hospital Association (AAHA). "The program is complementary on VetFolio and provides professionals an excellent opportunity to better understand infectious diseases and preventative care."
The certification program consists of two free educational modules taught by three veterinary experts in infectious disease: Understanding Infectious Diseases led by Jason Stull, DVM, Ph.D., and Michelle Evason, DVM, DACVIM, and Effective Infectious Disease Control led by Melissa Bourgeois, DVM, Ph.D., DACVIM.
"Dogs that are social or visit pet facilities, such as doggie daycares and boarding kennels, are at higher risk for infectious diseases, such as canine influenza," said Ernie Ward, DVM, supporter of the program. "Fortunately, through better understanding of infectious diseases and preventative care, including effective vaccination and cleaning and disinfecting protocols, we can help keep pets healthy when they enjoy travel and play."
Certification is free and open to all veterinary and pet professionals. To become certified, participants must complete both educational modules and pass the certification exam. The certification provides two hours of RACE-approved continuing education credits for veterinary professionals. Individual pet professionals and veterinary and pet care facilities can also apply for certification.
In addition to the certification, the Heroes for Healthy Pets program also supplies veterinary and pet businesses with the following resources:
Heroes for Healthy Pets podcasts, a collection of educational podcasts on infectious diseases hosted by Courtney Campbell, DVM
Heroes for Healthy Pets Infectious Disease Handbook, a resource for all pet professionals written by experts in infectious disease, including information on viral and bacterial pathogens and best practices for infection prevention
Heroes for Healthy Pets promotional materials to help pet businesses promote their "Hero status," including a virtual marketing toolkit consisting of template e-blasts, social media content, signature badges, and website banners, as well as educational tools for pet owners.
Learn more about the Heroes for Healthy Pets Infectious Disease Management Certification Program or register for certification at heroes4healthypets.com.