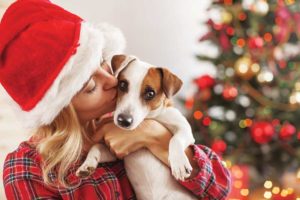 Your clients and employees love the traditions of the holidays. However, the sights, smells, sounds, and good cheer can drive some pets crazy.
Helping pet owners and your employees understand how holiday celebrations can adversely affect dogs and cats is a great first step to ensuring a wonderful season for the entire family.
Raising awareness
A happy holiday season for four-legged and two-legged families starts with helping clients understand several key things:
changes in the home can create stress for pets;
things we bring into the home can cause physical danger;
it may take time to help pets adjust to holiday decorations as well as packing up afterward; and
pets should never be forced to experience things that scare them. This will not help them "get used to it." It only makes them more stressed or fearful.
Of course, families want to include their pets in every celebration that happens this season. The fact is, however, many pets do better if they sit out some of these events. Plus, it's not just anxious pets who may need a break—any pet can
be overwhelmed by changes in the routine.
Helping families who travel
A pet that was stressed by travel during the summer vacation or a family move is likely to also be stressed by holiday excitement.
Offer tips to help make the pet more comfortable, whether they are taking the train, a plane, or an automobile. Encourage families to put the carrier or crate out now and remind them to offer special treats to entice the pet to investigate it. Owners also can feed the pet inside the kennel. Be sure clients know to include a comfy bed inside and leave favorite toys in or near the crate. This helps the pet see it as a good place to be, rather than as a punishment or something to fear.
Prevent gridlocks and headaches by using your e-newsletters to reach out to families to ensure vaccinations are up to date and travel documents or health certificates are in order to allow pets to travel within the U.S. or abroad. It's also a good time to communicate with clients to ensure they have other stress-relieving products on hand such as pheromones, compression garments, anti-nausea medication, and anxiolytics if necessary.
If the pet is typically anxious about travel or disruptions in its schedule, discuss anxiolytics with the pet owner now. Giving "test doses" of different medications prior to travel or stressful events can be critical to being truly prepared for these events. For anxious animals, having pheromones and the proper anxiolytic medications can mean the difference between a Merry Christmas and a Blue Christmas!
Reducing stress for pets who stay home
For many families with pets, traveling just isn't worth it. But just because the pet is home, doesn't mean all is well. Any disruption to the normal routine can create fear, anxiety, or stress. Trying to maintain the sense of normalcy is key to ensuring your clients' pets have happy holidays.
Visitors: If a dog or cat doesn't like strangers, they won't like people coming into the home. Advise clients to create a safe space now, with favorite toys and bedding to serve as a retreat when friends or family come over. Most people know when they will have visitors. Encourage clients to place pets in their safe place before company arrives and be sure they know to give them a special long-lasting treat or foraging toy at this time. For anxious animals, this is a lot more fun than meeting new people.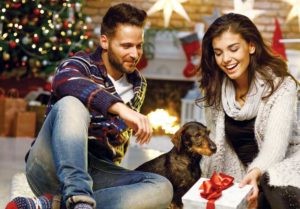 Whenever possible, encourage pet owners to meet guests at the door so the doorbell isn't constantly going off and sending pets into a frenzy. Alternatively, suggest people tape a sign over their doorbell asking them to knock instead.
Decorations: Some families just add a Christmas tree to the living room. Others rearrange the furniture, too. Or they add something that moves or makes noise. A train running around the base of the tree? A dancing Santa or snowman? Flashing lights and candles? We might find these beautiful, but they can overstimulate and frighten pets.
Any change in the home—no matter how insignificant it may seem to clients—can make a pet anxious. Pull tip sheets from various sources or create your own to help people decorate so as not to frighten or hurt their pet. Many pet owners don't think about the dangers decorations pose. Pets can eat or get tangled in items too low to the ground. Many clients don't realize plants such as holly berries or mistletoe can be toxic. Educating them now could help avoid life-threatening situations later in the holiday season. Encourage pet owners to confine pets to a safe place whenever they are left home alone. This decreases the chance of illness, injury, or stress due to all the possible holiday hazards.
Foods: Be proactive with pets who suffer from tummy troubles or food allergies. Clients and their families want to treat their pets to special foods, too. But the owner of a dog with GI issues may need some reminders that bites of food from the table could lead to distressing and costly health problems. They may need encouragement or even examples of the words or phrases to use to explain to visitors why they can't share food with the family dog. Pet owners also should be reminded that some of our holiday favorites, such as chocolate, alcohol, and macadamia nuts, can be toxic to animals. Grapes, raisins, onions, and garlic also can be dangerous. And don't forget foods sweetened with xylitol like sugar-free gum, candy canes, and baked goods.
Office cheer?
In every clinic or hospital, there's that one employee who loves to show his or her holiday spirit.
Santa hats, elf ears, and reindeer headbands can make any pet in the clinic understandably frightened and anxious. Remember, the same dos and don'ts you share with clients for decorating also apply to the veterinary hospital.
Boarding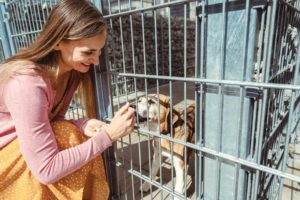 For many pets, your clinic will be their home away from home during the holidays. Help create the best environment possible for those who will spend a few days or a few weeks with your team.
Provide owners with a packing list so they bring key items with them. A favorite blanket or a sweatshirt that smells like home may help reassure an anxious pet. If a dog prefers a particular food or water bowl or the cat likes to sleep on a certain bed, can you accommodate those in your clinic?
Other dos and don'ts: Do tell the owner to bring in the pet's normal food with them to help prevent gastric upset. Don't ignore the needs of pets that are stressed and anxious; provide anti-anxiety remedies such as pheromones and medication. Any dog that has a history of being stressed by boarding may benefit from having a pheromone collar put on a few days prior to arriving at your clinic. And ensure you are scheduling staff time appropriately to provide extra exercise or attention for dogs and cats in your care.
Pet Santa
Many families feel compelled to give gifts to their pets. By offering stocking stuffers in your practice, you can channel that in the right direction. A dog might benefit from food puzzles or other toys that stimulate his or her brain instead of an elf costume it doesn't want to wear in the first place.
New Year's festivities
Fireworks at the stroke of midnight are common in many communities. But pet owners don't think to prepare for them this time of year. A call from a staff member reminding parents of a dog with noise phobias how to prepare their pet could be well received.
Here are three tips for families to help pets cope with holiday fireworks. First, owners should build the pet a safe spot. This helps insulate him or her from noise and flashes of light, which can be a significant source of fear. Use pheromones to provide a sense of calm and comfort. If the pet is still distressed, consider prescribing anxiolytic medications to help provide relief. Remind pet owners to be prepared now so they are ready before Dec. 31.
These steps may not be enough
Besides working to ensure a calm, quiet, and consistent environment, owners with anxious or fearful pets may still need additional support during the holidays.
Pheromone products can be presented by diffusers plugged into outlets in the home.
A pheromone diffuser lasts 30 days—placing one in the home early in the holiday season allows the client to prepare the pet's environment with minimal effort. If they would rather, they can use sprays on the pet's bedding or in its crate. Pheromone collars for dogs allow him or her to take the pheromone everywhere they go. These products last for 30 days, which makes client compliance very easy.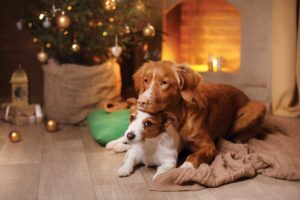 Certain "natural" products also have been shown to be helpful. For example, L-theanine, the amino acid found in green tea, is a component of at least two pet supplements. This amino acid has been clinically demonstrated to help calm animals and decrease signs of anxiety by increasing brain dopamine, serotonin, and gamma-aminobutyric acid (GABA) levels (Lardner AL., 2014, Araujo, Rivera, Landsberg 2010). Alpha-s1 tryptic casein is another ingredient shown to have anxiolytic effects in dogs and cats by mimicking the action of GABA, the brain's inhibitory neurotransmitter. It is available in a supplement and in a commercial pet food. Much has been learned recently about the role the gut microbiome plays in behavioral health; there is a new probiotic on the market clinically demonstrated to decrease anxiety in at least one study (McGowan, et al. 2018).
The availability of various safe and natural products should make it easy to increase compliance, especially with clients that are more hesitant to use medications. All these products will likely help ensure better results if started at least a few days prior to holiday events and gatherings. If one product by itself does not give the required results, encourage owners to add another one, rather than simply using something else. In more difficult cases, giving the pet two products to reduce fear, anxiety, and stress may be better than one.
Pharmaceuticals (e.g. trazodone, gabapentin, or benzodiazepines) also can help the pet cope better with the stress of the holidays, especially for a dog or cat that is fearful of strangers and may need to spend time away from people in the house. Medications may be used safely in conjunction with pheromones and any nutritional supplements. You also may find that lower doses are needed when used with some of these other products, rather than in place of them. Preventing the pet from experiencing fear or anxiety during the holidays not only helps keep their fear from worsening, it can prevent real emotional suffering as well. This is a critical part of preventive health care for pets.
Holidays not ideal for pet adoption
It is a rare family that would have its entire focus on a new dog or cat during the holidays. The boyfriend or girlfriend who could pick the ideal pet as a gift for their special someone is a unicorn. And the person who could match a pet with their significant other during the holiday season is quite possibly a flying pig unicorn. However, many people give a puppy or kitten as a pet during the holidays.
Start encouraging people now to wait to adopt a pet until after the holidays. Looking for a new furry friend once the decorations are stored in the attic and the routine is back to normal is ideal for owner and pet.
But for those who insist on bringing a puppy home, you can make the homecoming better by ensuring they stick to a routine right away. Make sure clients don't forget feeding and potty breaks in the hustle of the holiday season. Also remind them to provide a crate or other safe place the new pet can retreat to. Being in a new home is stressful enough, but with the addition of strange people (yes, family members count), noises, decorations, etc., it can be overwhelming for a new puppy or kitten. Remember, they're still babies.
After the holidays
The festivities are over, so everything goes back to normal, right? Wrong. Your clients need to be reminded that disruption lingers; teach them how they can use positive encouragement to create positive associations. Pets need to adjust to that new treadmill in the corner of the room or the toys the kids may be playing with. Providing treats and reassurance when the pet is exploring these new objects helps them get used to the changes with good feelings. Remind clients their furry family members also need to become accustomed to them not being around—most people take a lot of time off during the holidays and kids are home from school. That all changes soon enough. Food puzzles can help prevent boredom that may happen when the house is empty again.
If pet owners complain their pet begins to destroy things in the home when left alone or is soiling the house, be prepared to explain these behaviors do not mean the dog or cat is angry and seeking revenge. Instead, they are more likely to indicate the pet is stressed and may need additional help to adjust to post-holiday routines.
There are few times during the year when as much changes in the home as it does during the holidays. By asking key questions of clients and offering suggestions for how to maintain a calm and consistent environment, you can reduce stress and distress for both humans and animals.
It is a simple thing, but one that can have immeasurable results for the pets in your care.
A native Texan, Valarie V. Tynes, DVM, DACVB, DACAW, received her DVM from Texas A&M University. She worked in private practice for 14 years before returning to academia to pursue a residency in clinical animal behavior at the University of California, Davis. Dr. Tynes has been a diplomate of the American College of Veterinary Behaviorists (ACVB) since 2003 and is its immediate past-president. She also is board-certified in animal welfare, and has a special interest in the behavior and welfare of pet pigs, exotic pets, and zoo animals. Tynes has been actively involved in the Fear Free initiative since its inception and serves on the Fear Free speakers bureau. She is a frequent presenter at veterinary meetings around the country and is author of numerous articles and textbook chapters. Tynes joined Ceva in October 2014 as a veterinary services specialist, but continues to provide consulting services to zoos.
Jennifer Styrsky, DVM, MRCVS, is marketing manager at Ceva Animal Health. Dr. Styrsky earned her bachelor of science degree (molecular biology) from Benedictine University and DVM from the University of Illinois. Her experience has ranged from being an associate to medical director while in practice. She joined industry in 2011 as a technical services veterinarian and was promoted to marketing manager in 2016. She can be contacted at jennifer.styrsky@ceva.com.
References
Lardner Anne L. Neurobiological effects of the green tea constituent theanine and its potential role in the treatment
of psychiatric and neurodegenerative disorders. Nutritional Neuroscience 2014;17:145-155.
Araujo JA, deRivera C, Landsberg GM. Anxitane tablets reduce fear of human beings in a laboratory model of anxiety-related behavior. Journal of Veterinary Behavior 2010; 5:268-275.
McGowan RTS, Barnett HR, Czarnecki-Maulden G, et al. Tapping into those 'gut feelings': Impact of bl999 (bifidobacterium longum) on anxiety in dogs. Proceedings American College of Veterinary Behavior, Veterinary Behavior Symposium 2018, Denver, CO.