Suggested Veterinary Products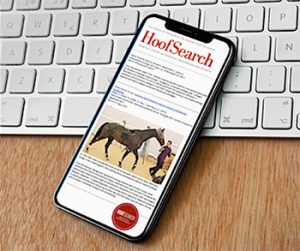 HoofSearch, a new project from Hoofcare Publishing, in Gloucester, Mass., is a monthly guide document indexing new peer-reviewed research, academic papers, conference proceedings, and patents covering hoof science, equine lameness, biomechanics, imaging, and related topics like equine metabolic syndrome, footing studies, and racing, breed, and sport-specific lameness research all in one interactive document, available 24/7 across all of a subscriber's web-connected devices.
Approximately 100 linked listings from 20 or more countries each month connect registered users to all points of the equine veterinary medicine/science publishing compass. Subscribers can browse the list passively for general awareness or actively click through to journal pages for more options. The index contains peer-reviewed journal articles, conference proceeding abstracts, master's and doctorate theses, and international patent announcements.
Rood and Riddle Equine Hospital's Podiatry Clinic in Lexington, Ky., was an early adopter.
"We all have HoofSearch available on our phones and laptops, said Scott Morrison, DVM, at Rood and Riddle. "We use it to keep up to date on all the developments in our field; it really is a great resource for all of us."
Massachusetts publisher Fran Jurga developed HoofSearch after listening to veterinarians' frustrations with online search systems and farriers' complaints about not knowing of new peer-reviewed articles on foot science.
The monthly lists carefully differentiate Open Access papers from those requiring subscription/library sign-in by using color-coded access labels.
HoofSearch can be viewed via free Google-based mobile apps for smartphones and tablets as well as via its desktop/laptop browser-based version. It can be used on the road, as well as in clinics and offices, and requires only internet access and a browser.
A subscription to HoofSearch is $119US, worldwide, for 12 editions.
To access HoofSearch, click the direct subscription link here (new US subscribers only). For non-US subscribers, click here.
Visit https://goo.gl/hJTISt and facebook.com/HoofSearch/ for more information.