People need to move animals internationally and across state lines for countless reasons. Some people take animals to compete abroad, some are involved in agriculture, and others still cannot bear the thought of moving or traveling long-term without their pets by their side. But getting your documents in order can be a long and arduous process that varies depending on your destination country and what type of animals you need to transport. Remember that if you plan to bring any animals back — including those that came from the United States in the first place — you will need to follow both import and export procedures for the United States and any country your animal visited while abroad.
What is one of the documents do you need? One is a vet health certificate, which according to the American Veterinary Medical Association (AVMA):
"This certificate basically indicates your pet is healthy to travel and is not showing signs of a disease that could be passed to other animals or to people. Certain vaccinations must be up to date for a health certificate to be issued. As part of the exam, your veterinarian may check for heartworm disease and prescribe heartworm preventative medication … You will need a Certificate of Veterinary Inspection to travel and some airlines require an acclimation certificate. Both of these certificates can only be completed and signed by a federally accredited veterinarian."
Exporting Your Animals
You'll encounter several different agencies as you prepare to travel depending on how you get there, but the first is the Animal and Plant Health Inspection Service (APHIS), a department of the Food and Drug Administration. They are responsible for making sure all of your paperwork is in order for the US.
You need to have a credentialed veterinarian fill out form APHIS 7001, which verifies that your pet is travel-read and up-to-date on all their vaccines. The most important thing is to be sure that your vet is accredited with APHIS. The simplest way to find out is just to ask, but if you're still not sure, you can contact your local National Veterinary Accreditation Program coordinator.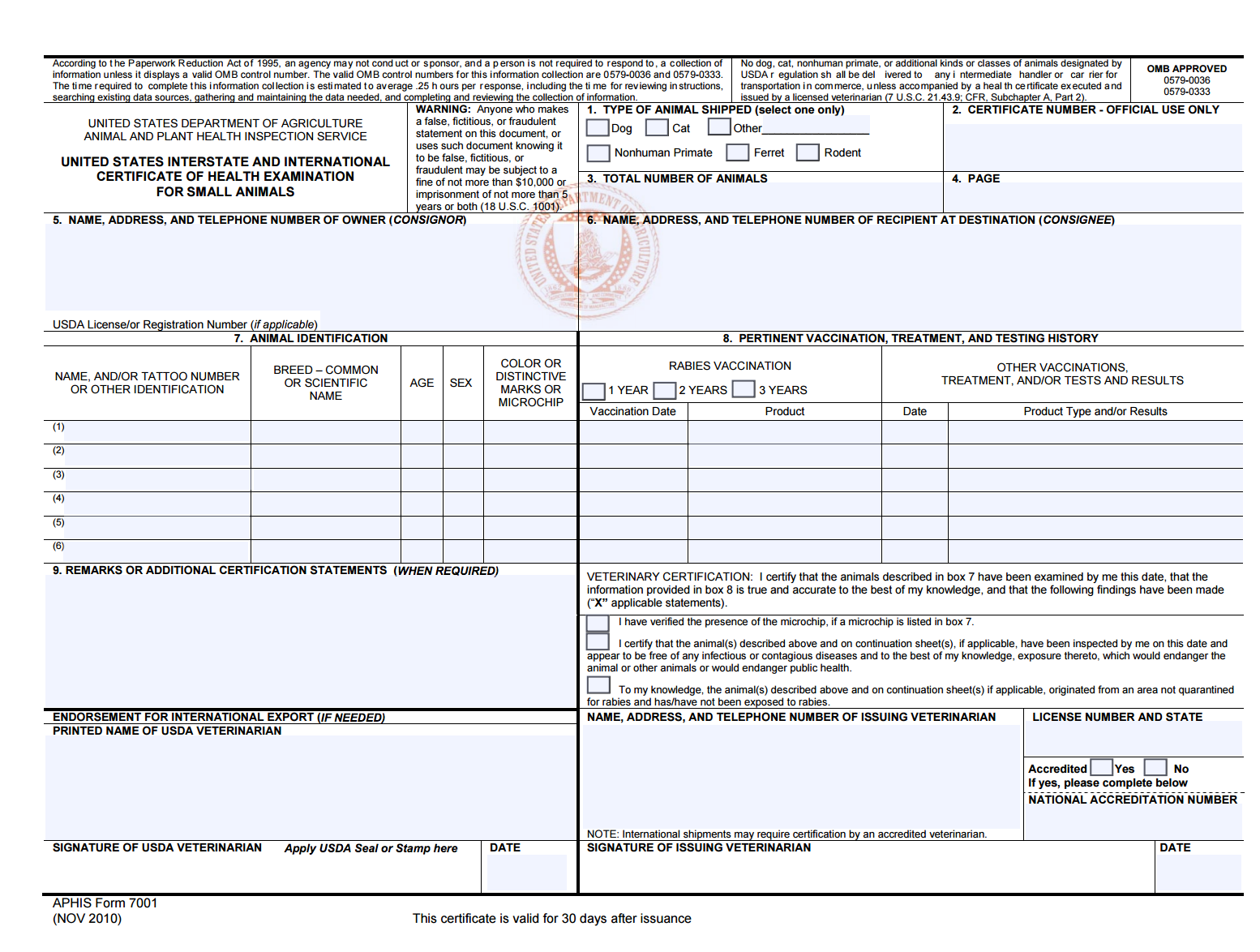 Type image credit here
Looking to travel. You'll need to fill out the APHIS 7001 form.
Bear in mind that it can take several months to fully process your paperwork, weeks or months for any quarantine that may be required by the destination country, and several weeks for any vaccines that are not up-to-date. Once you finalize your travel dates, you should start working with your veterinarian right away, that way you have plenty of time to address any problems that arise. You can learn more about international regulations by checking the list on the USDA website.
Traveling Domestically
It's easy to forget that when you travel around the country some states will require veterinary health certificates for domestic travel — especially for livestock and exotic animals that may bring in new diseases that could disrupt local agriculture. The same APHIS 7001 form works for interstate transport. Even if you do not plan on traveling to a state that requires paperwork or you plan on taking a simple road trip with the family dog it is a good idea to have a veterinary health certificate in case your plans change or state agriculture inspectors have any questions.
Bear in mind that if you plan to fly, even if your trip is domestic, several airlines require the veterinary health certificate form (APHIS 7001) and an acclimation certificate, which verifies that your animal is healthy enough to fly, provided the temperatures remain within an acceptable range. Acclimation certificates are only valid for 10 days before travel, so obtaining one should be among the last of the details you address in the days before your trip. You can check this list to make sure you comply with your airline's regulations, but be sure to double-check in case policies change.
Traveling Internationally
APHIS provides a list of tips before you take your pet from the United States to another country. They are:
Know where you are going, when you are going, and what pet(s) you are planning to take.
Working with your veterinarian, find out what tests, vaccinations, paperwork, or inspections are required by your destination country AND when they must be completed.
Work with your veterinarian to schedule required tests and vaccinations.
Work with your veterinarian to complete all required paperwork.
When required, have your completed paperwork endorsed by your local APHIS Veterinary Services office, either by mail or in person.
Travel with your pet.
Importing Your Animals (And Returning With Them)
Importing your animals or bringing them back from a trip varies wildly with which countries you visited and what type of animals you are traveling with. It is nearly guaranteed that the veterinary health certificate (APHIS 7001) is going to be necessary again. Veterinary health certificates are the easiest way for every agency you interact with to see that your pet is inoculated against common diseases and can sometimes even help you to avoid or shorten the mandatory isolation period when you return.
You are also likely to come into contact with the Center for Disease Control on the way back in. They determine all the regulations for animal imports and are responsible for ensuring that no exotic diseases are introduced to the country. Their website has a great list of links to help you figure out which policies apply to your animals.
You will also need to check with the state you plan to enter when you come to the United States. Several have successfully eradicated diseases or have livestock and crops that might be vulnerable to any diseases or parasites your animal might be carrying. To find out what your state requires, check with the USDA's guidelines for each state.
Traveling with animals can be a confusing process, but starting the paperwork a minimum of six months in advance and carefully confirming with the USDA, the CDC, your airline or other transportation company, and the consulate for your destination country can save a lot of headaches. Following these steps will help you ensure that all the paperwork you might need is in order and that your pet complies with all the health regulations you will encounter along the way.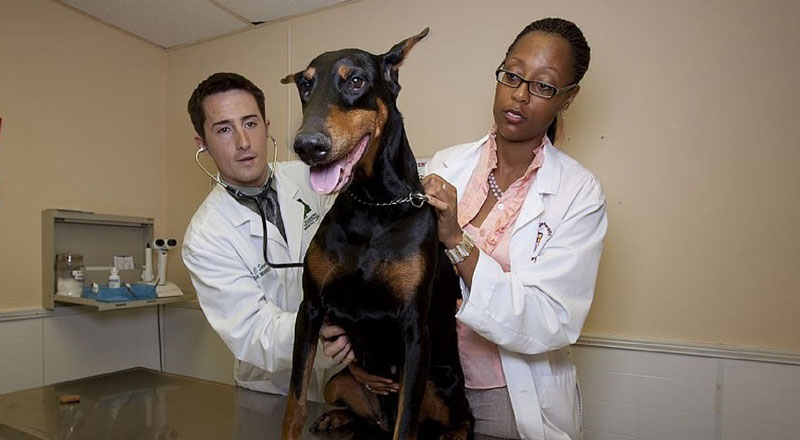 A vet health certificate's cost depends on the veterinarian and what vaccines or boosters your pet might need.
What does a Vet Health Certificate Cost?
The cost for a vet health certificate can vary depending on what vaccines or booster your pet might need. According to VetInfo, the cost for a dog's health certificate can vary:
"The average costs of a veterinary consultation can be between $25 and $150, but you may also find more expensive veterinarian doctors in your area. If you get the consultation at an animal shelter, the consultation can be free or the costs can be next to nothing … The average costs of vaccines if your dog is a puppy are between $20 and $150; again if you go to a pet shelter, the vaccines can be less expensive. If the dog is older and he only needs booster shots, the costs of these will be between $10 and $100, depending on where you take your pet. All in all, you may end up paying between $35 and $300 for a pet health certificate."