Originally published in the April 2015 issue of Veterinary Practice News
A client calls and explains, "My dog has diarrhea. Do you have an appointment available at 3 p.m. today?" The client care coordinator replies, "Yes, 3 p.m. is available."
Instead of asking callers, "When do you want to come in?" guide them to specific times that will have your day flowing smoothly and provide better client service.
Sick pets should be seen the same day, while clients calling for preventive care exams should be seen within one week. Let's say you have sick-pet exams scheduled today at 2 and 2:30 p.m. If you put a third sick pet at 3 p.m., chances are high that you'll run behind and the client will experience wait time.
Instead, aim for an alternating exam pattern of preventive care / sick care / preventive care. Always sandwich a sick-patient exam between two preventive care exams, which are more predictable and likely to stay on time. It's OK to schedule preventive care exams back-to-back.
When booking appointments, color code your schedule based on the reason for the visit. Strive for layers of colors. Imagine that you're making a club sandwich, layering bread, lettuce, tomato, bacon, turkey and bread. If you make a club sandwich with two slices of bread together followed by the remaining ingredients and then pick up the sandwich to take a bite, it would fall apart in your hands.
Likewise, your schedule will crumble if you don't create structure. Think of preventive care exams as the bread that holds the schedule together.
When you schedule visually with color codes, receptionists can easily see if they've achieved a balance between preventive and illness exams. Most practice-management software lets you use color codes. Create a color legend such as:
Green = Preventive care exams
Yellow = Sick patients
Purple = New clients
Pink = Euthanasia
Red = Urgent care (same-day sick pets)
Blue = Medical progress exams and diagnostics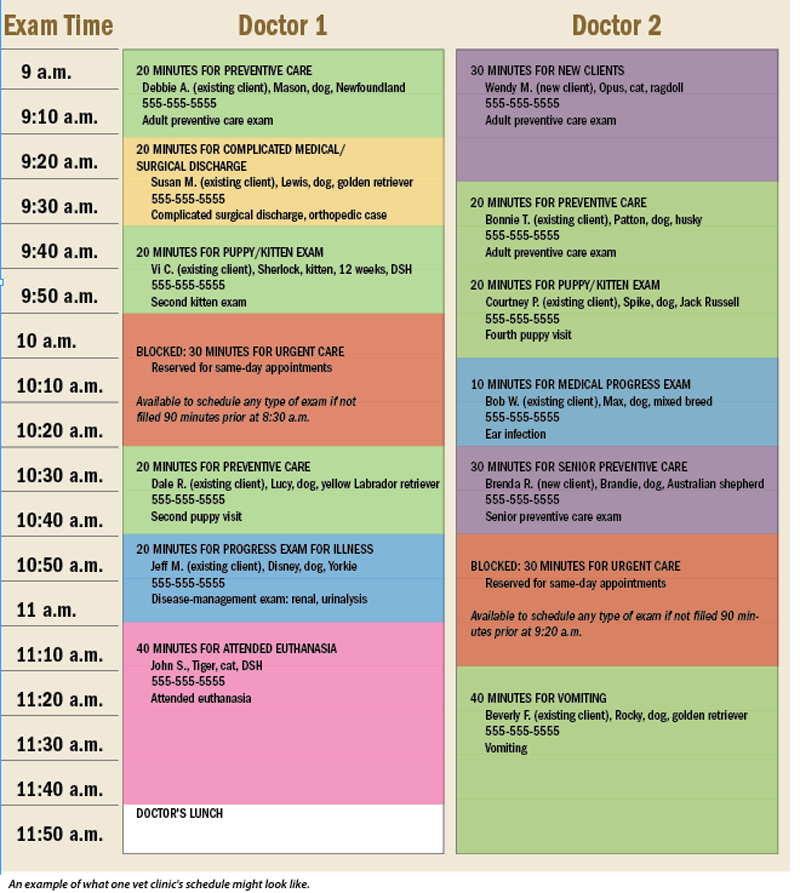 Wendy s. Myers
An example of what one vet clinic's schedule might look like.
Unlike physicians' offices, veterinary clinics must see patients for preventive care, illnesses, surgery, dentistry and emergencies—all in the same day. The schedule can easily spiral out of control without an organized and efficient system for booking patients.
To plan for sick patients that must be seen the same day, block urgent care slots in your schedule. Reserve three 30-minute urgent care slots per doctor per day. You may need more urgent care slots on Mondays, Fridays and Saturdays, when most practices see a higher volume of sick patients.
To determine how many urgent-care blocks your practice may need each day, review past schedules for two weeks to see how many same-day sick pets you saw.
In a multi-doctor practice, stagger urgent-care slots for each doctor by one hour. If two doctors have urgent-care slots at 10 a.m., you might cause traffic jams in the treatment area for work-ups. For example, Doctor No. 1 would have urgent care slots at 10 a.m., 1 p.m. and 4 p.m., while Doctor No. 2 would have urgent care slots at 11 a.m., 2 p.m. and 5 p.m.
Schedule the last urgent care slot 60 to 90 minutes before closing time to avoid employee overtime. If a client calls about a sick pet, use the two-yes-options technique, guiding her to the two exam times that will flow well for today's schedule. Say, "The doctor needs to see your sick pet today. We have an urgent care appointment available at 1 or 4 p.m. Which time fits your schedule?"
If urgent care appointments don't get filled within 90 minutes of the blocked time, release them to other clients. Let's say you have an urgent care slot at 10 a.m. If you haven't had any requests from clients with sick pets by 8:30 a.m., open the urgent care exam to any pet owner seeking care.
Another client calls at 8:30 a.m. and says, "I have a new puppy. Can I bring her in today?" Use the available 10 a.m. urgent care slot. Reply, "Congratulations on your new baby! We have an appointment at 10 a.m. today. Does that work for you?"
For more training on scheduling techniques, see my webinar on on "Secrets to Effective Scheduling." The webinar includes unlimited playback, a handout, one hour of CE credit and a CE certificate.
When your team reclaims control of the appointment schedule, you'll deliver better client experiences while having less stressful days.