Originally published in the January 2015 issue of Veterinary Practice News
Saying goodbye to beloved pets is an emotional and difficult decision for owners. Your team's compassion and kindness can bring comfort to grieving clients. Remember, half of what you care for is on the other end of the leash—people. Here are ways to create comforting goodbyes:
Offer a quality-of-life consultation. If the client is unsure about euthanasia, schedule a 30-minute consultation. The veterinarian will perform a comprehensive assessment of the patient, including its ability to move comfortably, eat, drink, urinate and defecate. Getting expert medical advice helps clients make rational, rather than emotional, decisions. The Association for Pet Loss and Bereavement (www.aplb.org) offers resources, including a quality of life scale.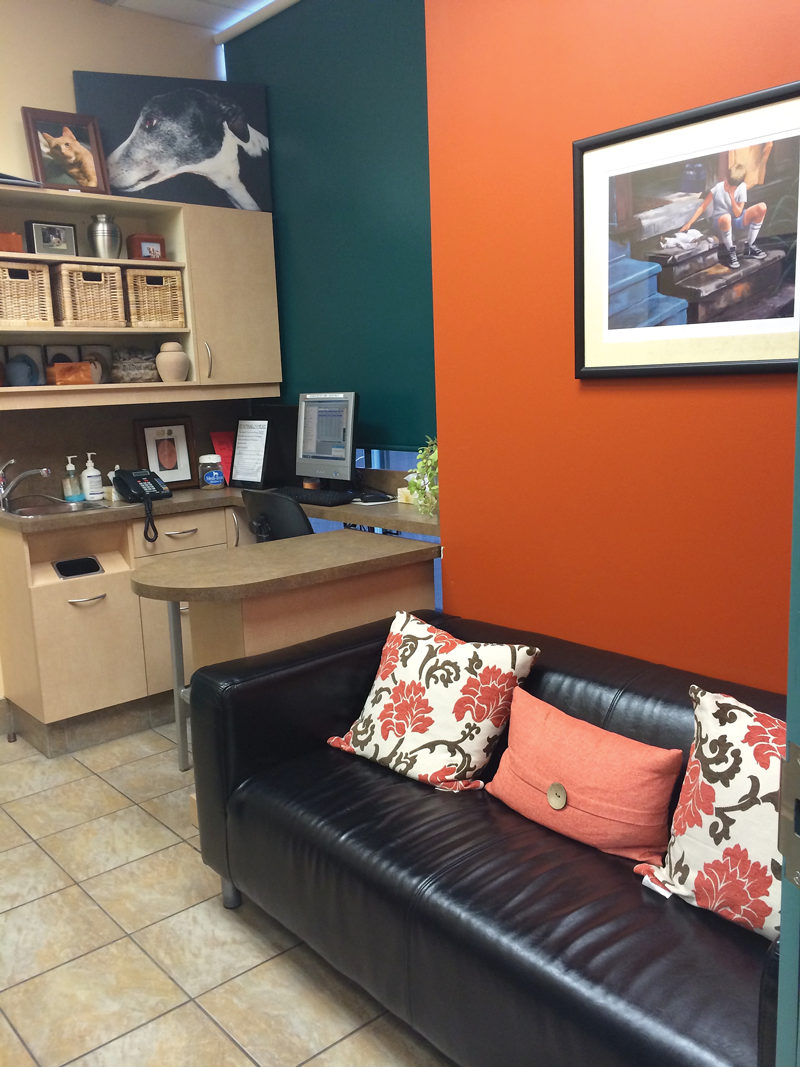 Wendy S. Myers
Make clients more comfortable through the use of cushy seating, soft lighting, relaxing sounds and tissues. Also allow them ample time for last moments with their pets.
Schedule enough time. For attended euthanasias, conduct procedures during low-traffic times, such as the beginning or end of the day. Allow at least 40 minutes, giving clients ample time to say goodbye. If a client prefers not to be present, plan for 30 minutes to admit the patient, sign the consent form, collect payment and allow private time in the exam room. When the client is ready to leave, ask her to let the medical staff know, so the pet is never alone. The client may flip an exam room flag in the hallway, place an angel hanger on the outside doorknob or ring a wireless doorbell. Also, install peepholes in exam doors so doctors and technicians can check whether the client needs more time.
Never make clients wait in the lobby. Immediately escort the family and pet into an exam or consultation room. When the client arrives, the receptionist should step out from behind the counter to remove physical barriers. Approach the client and say, "We've been expecting you. Let's go into the exam room. I will let the doctor and technician know that you've arrived." If the client appears open to a hug, give her one. If you're unsure of the owner's body language, the safe place to give a comforting pat is between the shoulder and elbow.
Alert employees to use respectful voices. Noise from the lobby, treatment area and hallways may be heard in exam rooms. Use a "Quiet Please" door hanger, turn off a hallway light near the exam room, place an angel magnet on a metal door frame or have an overhead page with a secret code such as "Code 72." The number 7 stands for seventh heaven while 2 is the exam room.
Prepare a comfortable exam room. At Animal Hospital Specialty Center in Highlands Ranch, Colo., we have two multipurpose exams rooms used for euthanasia, visitations and consultations. Furnish the comfort room with a small loveseat or two overstuffed chairs. For large dogs, place a padded, vinyl exercise mat on the floor and cover it with a fleece blanket. Many clients will sit on the floor with their pets, so the extra cushion provides comfort and is easy to sanitize after the procedure.
If the procedure is performed on an exam table, soften the clinical look of a steel or laminate tabletop by using a pet-themed fleece blanket or plush bath towel. Avoid using ripped or stained towels. Buy pet-themed fleece at fabric or discount stores. To make a no-sew fleece throw, cut the fringe along the edges and tie in knots. Place a small pillow at the end of the exam table where it connects to the wall to create the image of a bed.
Have tissues in exam rooms to wipe away tears. Consider a lamp for light softer than overhead fluorescent bulbs. Be cautious of scented candles because the odor may become overpowering in a small space and be a fire hazard if left unattended. A safer alternative is unscented battery-operated candles. For relaxing sounds, have a tabletop water fountain or play music with tones shown to reduce stress in animals, such as "Pet Music" and "Cat Calm."
Collect payment in the exam room. Don't have tearful clients pay at the front desk, which may be uncomfortable for them, employees and waiting clients. After the doctor and technician have greeted the client, explained the procedure and answered questions, the veterinarian would say, "Can we take your pet to the treatment area now to prepare him for the procedure? While we are with your pet, I will have a staff member come into the exam room to complete our paperwork with you."
Then the receptionist presents the euthanasia consent form and bill for payment. If you have computers in exam rooms, ask your practice-management software provider about integrated payment solutions. If not, ask the client, "Which payment method will you be using today? We accept cash, checks and credit cards." After she hands you a credit card, walk to the front desk to swipe the card and return with the receipt to be signed.
Provide pet memorials. Help clients' create lasting, fond memories of pets. Personalize the Rainbow Bridge poem with a paw print. Clip a lock of hair and place it in a fabric potpourri or sachet pouch. Make a donation to an animal charity in the patient's name on behalf of your hospital. Give a ClayPaws print, which you can personalize with the pet's name, color with paints or decorate with charms (www.veterinarywisdomprofessionals.com).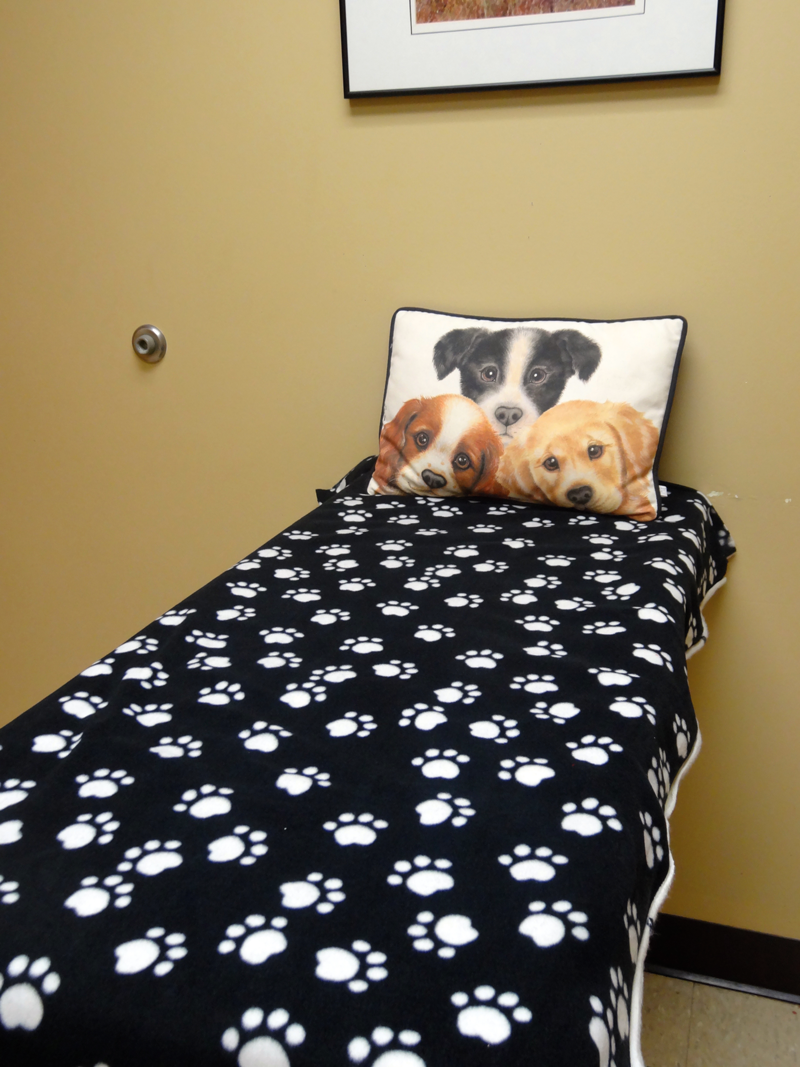 Wendy S. Myers
Soften the look of an exam table by placing a pet-themed blanket over it.
Provide pet-loss resources. The American Animal Hospital Association offers brochures and books on grieving, such as "Coping With the Loss of Your Pet," "Final Act of Caring: Ending the Life of an Animal Friend" and "Special Place for Charlee: A Child's Companion Through Pet Loss" (www.aaha.org).
Follow-up phone call. A few days after the euthanasia, have the veterinarian who performed the service call the client. If you get voicemail, leave a message. Say, "Hi, [client name]. This is Dr. [Name] calling from [Your Veterinary Hospital]. We know it was difficult for you to say goodbye to . I just wanted to call to let you know everyone at our hospital is thinking of you. If we can provide any information on pet loss or if you just want to talk, please call us. You're in our thoughts."
Euthanasia is one of the most difficult decisions that pet owners will face. During the next staff meeting, discuss how you can provide a comforting experience for clients, and then create written euthanasia protocols. For more training, see our webinar on "Creating a Comforting Euthanasia Experience," which includes unlimited playback, a handout and one hour of CE credit at www.csvets.com/training/webinars.html.
A team that demonstrates kindness and compassion will help clients turn sad goodbyes into loving memories.