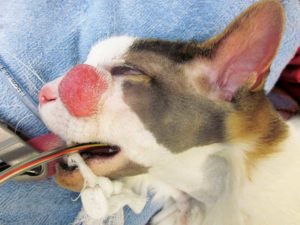 What can you do to improve your surgical skills?
Assuming your career path does not include a surgery internship or a residency and board certification, here are some tips to raise the surgical bar.
Prerequisites
Some traits are self-understanding. In order to perform surgery, you need to have dexterity and think in 3D. You'll also need the following:
"Good hands"—no shaking allowed.
A keen sense of observation. Observe the patient. Observe the tissue. Observe others perform surgery. Some will teach you what to do, while others will teach you what not to do.
Use the correct suture material, the correct needle, and the correct size.
Know and apply the seven principles of William Stewart Halsted, MD, our 19th-century forefather (see The basics of surgery).
Speaking of forefathers… believe the sayings they crafted:
"Measure twice, cut once."
"If it's worth taking out, it's worth turning in" (i.e. masses belong in the lab, not the trash).
"There are routine surgeries, but there is no routine anesthesia."
"Dilution is the solution to pollution."
It is critical to thoroughly understand anatomy, indications, and surgical approaches. Reading books to acquire a good understanding of anatomy and a great knowledge of approaches is a must. But books can only be edited so often. Reading the relevant literature (e.g. Veterinary Surgery) is critical to expanding your knowledge in "real time." Reading will help you stay up to date: never be the first one to try a new procedure, and never be the last one to perform a technique.
Surgical knowledge is only the beginning, though. A surgeon once told me, "You can be an internist with no surgical skills. But you will never be a good surgeon without knowledge of internal medicine." The same can be said about anesthesia, pain management, physical therapy, animal psychology, pathophysiology, and much more.
A good surgeon knows surgery. A great surgeon needs to be well-rounded to be capable of managing complex situations and difficult cases.
Call them mentors, coaches, or teachers, but learn from others who have the skills you need. Several mentors are preferred: one may be better at the art of surgery, while another may be a brilliant communicator, and the other a great leader. Learn from them all.
Attend quality CE. You can learn just about any procedure in multiple settings these days. While theoretical knowledge is a mandatory start, practice is required as much as possible. Perfecting your skills can be initially done on cadavers—as long as it's done in a respectful manner—before you graduate to live patients.
Mindset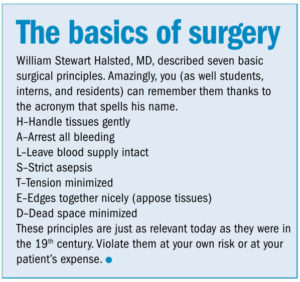 If you want to be good at surgery, mindset is absolutely critical. For example, respecting asepsis is a mindset. It applies to surgical packs and equipment, scrubbing the patient, scrubbing your hands and forearms, gowning up and gloving up, and keeping the field sterile during the entire surgery. It's like a religion. It is a non-negotiable guiding principle.
"Never stop learning" also is a mindset, and so is pushing your boundaries. Always have a Plan B and a Plan C before starting surgery. Never fall into a routine. Take each case as a challenge.
You also will need a vast array of "soft skills," such as compassion, leadership, flexibility, emotional intelligence, impeccable ethics, and many others.
Excellent communication and sincere respect are two critical skills you must display, as you interact with multiple stakeholders, including kennel staff, receptionists, technicians, assistants, and clients.
At some point, you will surely need to provide emotional support to your team in a difficult or sad situation. And don't forget the importance of your patients' emotional well-being, as well as excellent pain management and hypothermia prevention.
You also need to take care of yourself. Surgery is a fantastic way to get burned out. Be humble, which is a critical trait for anybody interested in surgery. Accept the fact you can't do it all and you can't save them all. Learn to say no. Get enough sleep. Strive to protect your own work-life balance, as well as your team's.
Another important mindset is to always take responsibility for your mistakes and shortcomings. Never blame others, starting with technicians. And for crying out loud, don't throw instruments at them. Enough said.
A key, though difficult, skill to develop is critical self-evaluation. After each surgery, ask yourself what you could have done better. Learn from your own mistakes. In cases where postoperative X-rays are available, such as an orthopedic surgery, consider sharing them with a mentor, a teacher, or a colleague to get their input.
You need to be adaptable. If you hate change, you will struggle to be happy in surgery. Change is a constant in our world: changes in the schedule, changes in protocols, changes in the surgical plan, changes in anesthetic status.
Respect the gods of surgery. Never, ever say things like, "This is going better than I expected" or "This is easier than I thought." You may come to regret those words. Ask me how I know…
Perioperative period
Surgery is just the beginning. You also need to be proficient at everything involved perioperatively: anesthetic protocols, fluid rates, antibiotic selection, pain management, interactions between medications, physical therapy, keeping good medical records, etc.
Communication remains critical after surgery, from calling the client to explaining discharge instructions to following up until the patient is hopefully back to normal.
If you're a practice owner, or want to become one, you will also need to be skilled at practice management, marketing, finances, staffing, and approximately 3,674 other critical skills.
This list is by no means exhaustive. There are many other traits you need to have or acquire to be proficient at surgery. Surgery is an art as much as a science. It is challenging and demanding, but also thrilling and rewarding.
Phil Zeltzman, DVM, DACVS, CVJ, Fear Free Certified is a board-certified veterinary surgeon and author. His traveling surgery practice takes him all over Eastern Pennsylvania and Western New Jersey. You can visit his websites at www.DrPhilZeltzman.com and www.VeterinariansInParadise.com.