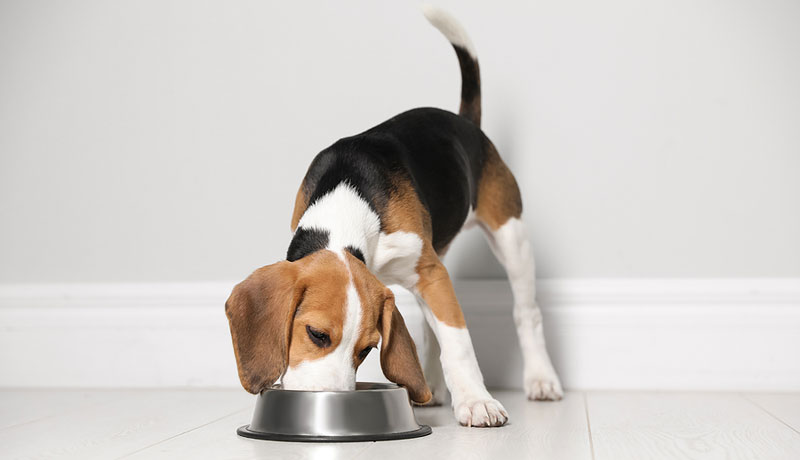 Canine diets comprised of human-grade ingredients might be beneficial for owners looking to scoop less poop.
A new comparison study out of the University of Illinois has found dogs fed fresh diets produce up to 66 percent less excrement than those that consume a diet of dry kibble.
"Based on past research we've conducted, I'm not surprised with the results when feeding human-grade compared to an extruded dry diet," says the study's coauthor, Kelly Swanson, PhD.
For a period of four weeks, a group of 12 beagles were fed four commercially available diets: a standard extruded diet (kibble); a fresh, refrigerated diet; and two fresh diets made using only USDA-certified human-grade ingredients (e.g. beef, chicken, rice, carrots, broccoli, etc.).
Researchers found the dogs fed the extruded diet needed to consume more to maintain their body weight and produced 1.5 to 2.9 times as much waste as any of the fresh diets, the University of Illinois reports.
"This is consistent with a 2019 National Institute of Health study in humans that found people eating a fresh whole food diet consumed on average 500 less calories per day and reported being more satisfied than people eating a more processed diet," Swanson says.
Further, researchers say the fresh diets uniquely influenced the gut microbial community.
"Because a healthy gut means a healthy mutt, fecal microbial and metabolite profiles are important readouts of diet assessment," Swanson says. "As we have shown in previous studies, the fecal microbial communities of healthy dogs fed fresh diets were different than those fed kibble. These unique microbial profiles were likely due to differences in diet processing, ingredient source, and the concentration and type of dietary fibers, proteins, and fats that are known to influence what is digested by the dog and what reaches the colon for fermentation."
The study, "Nutrient digestibility and fecal characteristics, microbiota, and metabolites in dogs fed human-grade foods," has been published in Journal of Animal Science. To access it, click here.
For additional reading, please see "Fecal microbiome testing: Is the research reliable to ensure a healthy pet?" by Brennen McKenzie, MA, MSc, VMD, cVMA.