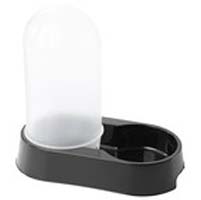 IKEA has issued a global recall on the LURVIG water dispenser for pets, effective immediately. The company cites the risk of dogs and cats getting their heads stuck in the dome of the dispenser as the reason behind the recall, reporting two incidents of suffocation worldwide.
IKEA sold 16,700 units in the U.S. and 7,767 in Canada from October 2017 to July 2018.
"At IKEA, the safety and security of our products is our top priority, which is why we have decided to recall the LURVIG water dispenser," said Petra Axdorff, business area manager at IKEA of Sweden AB. "We are deeply saddened by these events and know that pets are important and loved family members for many of our customers."
IKEA is urging its customers to immediately stop using the dispenser and return it to any location for a full refund. Proof of purchase is not required. Any questions are to be directed to IKEA's customer service line at 888-966-4532 (U.S.) or 1-800-661-9807 (Canada).
Article number: 303.775.72