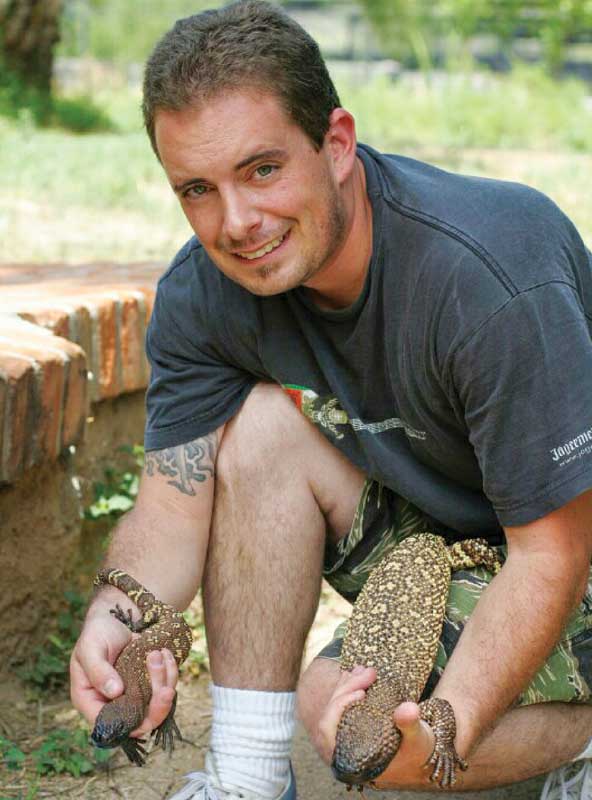 As a lifelong fan of reptiles and amphibians, Ian Recchio has not only turned his interest into a profession, he is regarded as a leading expert in the field. For the last 28 years, Recchio has worked in the Los Angeles Zoo's herpetology department, with 15 of those years heading up the department as curator. His responsibilities span nearly every facet of the department, from conservation to care and husbandry to designing enclosures.
Recchio helped design and now manages the LAIR (Living Amphibians, Invertebrates, and Reptiles) which showcases more than 60 species and 1,200 specimens from around the globe. Opened in 2012, the LAIR opened with high-profile fanfare thanks to longtime Los Angeles Zoo supporters Betty White and Slash, who teamed up for a series of commercials to encourage attendance.
As part of the program, Recchio leads the facility's efforts to save the critically endangered southern mountain yellow-legged frog. Through a breeding and reintroduction program, the Los Angeles Zoo has released more than 4,000 tadpoles and frogs back into the environment.
When not on the zoo's actual grounds, Recchio can be found documenting the herpetofauna of mainland Mexico, the Baja Peninsula, and its surrounding islands. He also takes a special interest in reptiles of the American West and Latin America.
In addition to his responsibilities at the zoo and his fieldwork, Recchio works closely with the Association of Zoos & Aquariums (AZA) by serving on its committees for Komodo dragon steering, snake taxon advisory group (TAG) steering, and as the anti-venom advisor for the western United States.
With reptiles growing in popularity as pets, the need for veterinarians who can work on them also increases. From veterinary school graduates determining their specialties to established clinics expanding their capabilities, reptiles, amphibians, and invertebrates require a unique skill set. Recchio discusses how to approach this distinctive area of veterinary medicine.
Have you noticed an increased interest in reptiles as pets?
Most definitely the interest in reptiles and other ectothermic species as pets has increased in the past 20 years or so. I think much of the increase in interest is attributed to the increase in television programs and social media focusing on the "creepy crawlers" of the world. Certainly, The Crocodile Hunter series was a big part of bringing reptiles to everyone's living room.
Do you see a growing need for veterinarians who can work on reptiles or specialize in them?
The availability of reptiles and amphibians in the pet trade has increased exponentially in recent years. Herpetoculturists have advanced and grown both in knowledge and size of their breeding capabilities. This has resulted in many unusual, rare, and beautiful species being available to the average pet seeker. Your local veterinarian who ordinarily would see their fair share of green iguanas, Burmese pythons, and sliders, is now seeing New Caledonian geckos, Indigo snakes, and pig-nosed turtles. The need for veterinarians with specialized skill sets has certainly increased due to the availability of these species, which can be more sensitive and difficult to care for.
If there was just one thing you could make sure veterinarians understood about reptiles, what would it be and why?
In my opinion, the most critical skill set would be for veterinarians in training to understand the details of these species' natural history, and their specialized husbandry needs. This can be said for all ectothermic species that have become so common in the pet trade.
What do you look for in a good reptile veterinarian?
I have known and worked with many great vets over the years, but only a handful were skilled in the specific veterinary care of ectothermic species. It really is a specialized area. To put this in perspective, when we humans visit our primary care physician, we are referred to specialists in many fields. Cardiology, geriatrics, proctology, etc., and even then, these specialists refer us to an orthopedic surgeon who specializes in mainly knee replacements! To expect a veterinarian to be an expert in the medical care of thousands of different species is totally unreasonable.
I simply look for a person who has worked or specialized in herpetology medicine, or has worked with these types of exotics in a large zoo where the unusual (non-pet type) specimens are cared for on a daily basis. What I consider very valuable is knowing the veterinarian has a solid understanding of ectothermic species' natural history and behavior. The health of these animals starts and ends with solid husbandry. I have experienced veterinarians new to treating exotics ask me to administer oral medication to a reptile three times daily. You can see the issue here, as most ectothermic species feed infrequently, sometimes only monthly, as in the case with large constrictors.
As someone who works with reptiles in a professional capacity, what would you like to see change in terms of the animals' veterinary care?
A few years ago, I hired an animal keeper to work in our herpetology department. He had a background in working with reptiles as a serious hobbyist. He left the zoo and went on to graduate from UC Davis with his veterinary degree, and now works at an AZA Zoo in the U.S. He had always wanted to specialize in reptile medicine.
Few would argue Davis is one of the best vet schools around, but he told me only a small fraction of his vet training was focused on ectothermic species, and the reptiles that were focused on were common pet-type species. I think future veterinarians would be better prepared if schools offered more focused courses on the health and husbandry of exotic ectothermic species. After all, there are many more exotic tarantulas, scorpions, and exotic reptiles in the pet trade these days, so there is an increasing need for this skill set.
As an experienced herpetologist, what are the top three takeaways you would like to share with any veterinarian new to herpetological medicine?
1) Be prepared to collaborate and work as a team with animal care specialists to devise the best course of action to treat reptiles in need of medical treatment.
2) Always consider changes in husbandry as a reasonable step in trying to improve an ectothermic species' health before aggressive medical intervention. Often a subtle change in temperature or the inclusion of a hide for security can make a huge difference in species' health.
3) Be gentle and thoughtful of the natural behaviors of a reptile species. Is removing an arboreal snake, such as an emerald tree boa off of its perch daily or more, to give an injection going to result in irreversible stress and possibly death? Consider if the cure is more harmful than the disease.
Elisa Jordan is the managing editor of Veterinary Practice News.
Douglas R. Mader, MS, DVM, DABVP (C/F, R/A), DECZM (herpetology) contributed to this article.