Intervet/Schering-Plough Animal Health on April 22 celebrated the opening of its new vaccine manufacturing facility at Biosciences Center Boxmeer in The Netherlands. Chris Buijink, secretary general of the Dutch Ministry of Economic Affairs, performed the official opening.
The animal health company is investing $22 million in the new building, which has increased the floor space for the production unit from about 16,146 square feet to about 59,202 square feet. It will have four hi-tech production lines for bacterial vaccines with a media preparation capacity in fermentors ranging from 200 liters to 1,500 liters.
The facility is compliant with current and anticipated regulatory requirements on Good Manufacturing Practices for veterinary medicines, with special sectors for bio-contained zones. In addition, the new facility allows production capacity to be expanded in order to meet the increasing demand for veterinary vaccines.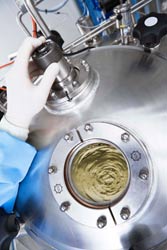 Looking glass in fermentor, used for the visual inspection of the vaccine production process.
The opening celebration included a scientific symposium titled, "Research and Technology in Bacterial Vaccine Development: Opportunities for a One Health Approach." The symposium was organized in collaboration with Immuno Valley. Several industry leaders from Dutch universities and research institutions presented new developments in bacterial vaccine R&D and manufacturing with the "One Health" approach as an overarching theme.
"The new bacteriological processing unit here in Boxmeer illustrates the ongoing investments in innovation that this company is making," said Malte Greune, senior vice president of Animal Health Manufacturing. "We believe that this facility and its equipment, as well as the people that work here, all contribute to the success of our business.
"Moreover, it is yet another example of our integrated technology strategy, where we combine our expertise along the production process from making small amounts of vaccine in a laboratory, via upscaling in our pilot production plant, and finally to commercial large-scale batch manufacturing."
Intervet/Schering-Plough Animal Health is a subsidiary of Merck & Co. Inc. of Whitehouse Station, N.J.