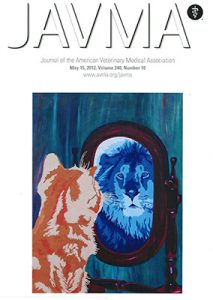 Student AVMA (SAVMA) members can now read the Journal of the American Veterinary Association (JAVMA) for free online or through the JAVMA mobile app.
Students can sign in to the app with their SAVMA ID and password or register online at avmajournals.avma.org to get free access to all of the journal's clinical research, feature articles, and content. SAVMA members who want to receive the print version may subscribe at a significant discount rate of $40 per year.
On-the-go access through the JAVMA mobile app allows subscribers to read it from an iPhone, iPad, or Android mobile device. App functions include:
Pinch-to-zoom functionality to view text and images in greater detail
Full-text and archival search capabilities
Note taking, note syncing, and bookmarking pages
Navigation by table of contents and page carousel
Easy sharing of articles via email or social media
The mobile app is available through the Google Play and Apple App stores. Learn more at avma.org/JAVMAapp.