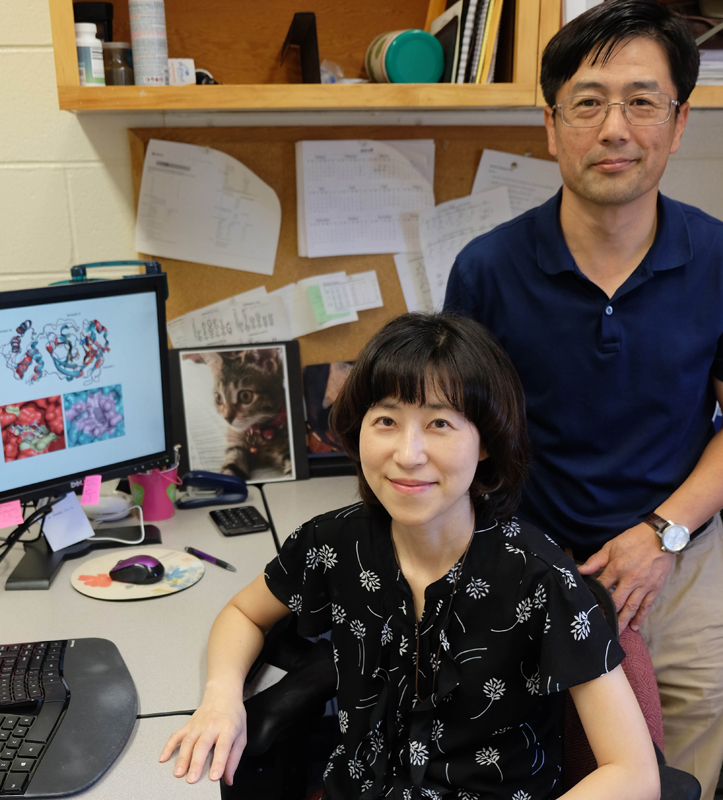 As global concerns surrounding the novel coronavirus COVID-19 continue to escalate, Kansas State University (K-State) has licensed a technology it says might lead to the production of an antiviral drug treatment.
Biotechnology company Cocrystal Pharma has been granted an exclusive license to certain antiviral compounds in development at the university's College of Veterinary Medicine (CVM).
"The team at Cocrystal Pharma moved with a high sense of urgency to finalize the license negotiations," says Bret Ford, director of business development and licensing at K-State Innovation Partners, the group that coordinated the agreement. "We look forward to watching them move with the same sense of urgency to advance our antiviral compounds toward human clinical trials."
K-State virologists, Yungeong Kim and Kyeong-Ok "KC" Chang, and William Groutas, a medicinal chemist at Wichita State University (WSU), have been using grants from the National Institutes of Health (NIH) to develop human norovirus therapeutics. The research team recently received an additional $3.7 million to develop antiviral drugs to treat various human coronaviruses, including Middle East Respiratory Syndrome (MERS) and the emerging COVID-19.
Cocrystal Pharma plans to pursue research and development of these antiviral compounds, including preclinical and clinical development.
"This licensing agreement provides support to confront the emerging strain of coronavirus with urgency and caution," says Bonnie Rush, DVM, MS, DACVIM, dean of K-State's CVM. "The work of our K-State researchers is tremendously challenging and has never been more timely."
Though the research has primarily focused on human viruses, the K-State team says it has also resulted in important discoveries related to animal viruses, including feline enteric coronavirus (FECV).
"We were able to utilize our knowledge and resources to develop a protease inhibitor for this animal viral disease along the way," Kim says. "It is very encouraging for this suggests we are on the right track for our approach and also that we can contribute to improving animal health."
At this time, no antiviral drugs are available for human norovirus or coronaviruses, which include SARS, MERS, and COVID-19, the university says.