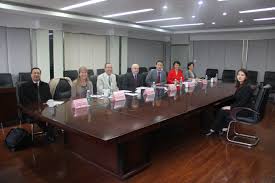 A program initiated by Kansas State University that helps students from China earn veterinary medical degrees in the U.S. is increasing the number of students it serves.
A memorandum-of-understanding signing ceremony was conducted Oct. 19 in Beijing, China, expanding the U.S.-China Joint Doctor of Veterinary Medicine Scholarship Program, which was initiated in 2012 by the U.S.-China Center for Animal Health at Kansas State University, along with the China Agricultural University and Chinese Veterinary Medical Association. The joint program has been sponsored by China Scholarship Council, Kansas State University, Zoetis and the International Veterinary Collaboration for China.
Zoetis originally provided funding to the program for 30 students' pre-veterinary tuition and related activities. The China Scholarship Council has provided full-ride scholarships for four years of DVM tuition and five years for living stipends. Kansas State University has sponsored the program by providing program management service and additional scholarships.
Under the new agreement, Zoetis will continue to support the program by providing pre-veterinary tuition funding for an additional 15 students with Kansas State University and the Chinese Veterinary Medical Association.
The U.S.-China Joint Doctor of Veterinary Medicine Program is a five-year training program with one year of pre-veterinary study at Kansas State University and four years of veterinary study at the university or one of three other U.S. partnering schools. Once students receive their Doctor of Veterinary Medicine, they are to return to China to advance veterinary education and promote animal health, public health and food safety under the concept of "One World, One Health."
In May, the program graduated four inaugural students who are the first government-sponsored Chinese Doctor of Veterinary Medicine recipients since 1949. Now, these four graduates are recruited by the China Agricultural University and Huazhong Agricultural University as associate professors.