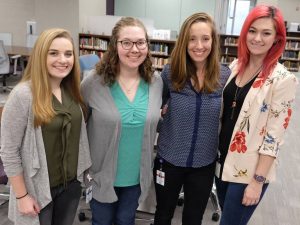 Four Kansas State University veterinary students have each been awarded $1,000 by the Auxiliary to the American Veterinary Medical Association (AVMA) Legacy Endowed Scholarship.
The awards are given to students at 32 AVMA-accredited veterinary colleges in the U.S., the Atlantic Veterinary College in Canada, and St. George's University and Ross University in the Caribbean to support their education.
This year, the scholarships went to third-year veterinary medicine students, Danielle Pickering and Katelyn Guill-Sanchez, and second-year veterinary medicine students, Rebecca Tomasek and Katya Luckenbach.
"This scholarship will help me relieve some of the financial burden of veterinary school, as I pursue a career in small animal or mixed medicine, and eventually a doctorate," Pickering says.
"As a veterinary student who is interested in public health and international veterinary medicine, I am always looking for educational opportunities to travel to other countries to experience what the field of veterinary medicine is like in them," Luckenbach says. "Being an out-of-state student, it is hard to justify borrowing extra money for electives involving international travel, so having the privilege of being awarded this scholarship will help to fund my upcoming international veterinary tours elective."
"I am so excited to receive this award for the second year in a row," says Guill-Sanchez. "This scholarship has provided wonderful mentorship opportunities to allow me to expand my large animal experience and has taken off a considerable amount of financial pressure as I approach my fourth year."
"This scholarship reinforces the importance of participating in organized veterinary medicine, servant leadership, and supporting the community while pursuing my career goals," Tomasek says. "I am incredibly grateful to have received this scholarship."
The AVMA says the scholarships are awarded to help offset the cost of veterinary education.