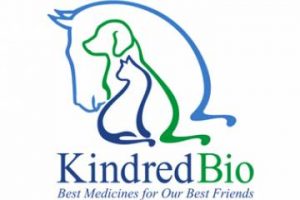 Kindred Biosciences Inc. has joined the American Association of Equine Practitioners' (AAEP) Educational Partner Program.
Educational Partners provide resources and education through the AAEP to equine veterinarians and horse owners to improve animal health and welfare.
"KindredBio's partnership with the AAEP brings together two organizations that share a passion for improving equine wellness," said Denise Bevers, co-founder and COO. "Our company is focused on addressing the numerous unmet medical needs that equine veterinarians encounter daily. In addition, many of us at KindredBio are horse owners, so we understand there is no better equine partner than the AAEP."
At the upcoming AAEP convention in San Francisco, the company will be the Health and Wellness Initiative sponsor, will underwrite a Sunrise Session, and will have a large presence in the exhibit hall.
The company focuses on drug development for cats, dogs, and horses. Equine products in development include a product for control of pyrexia (fever) in horses, which is currently under review by the FDA's Center for Veterinary Medicine.
The company becomes the 11th equine health corporation in the AAEP's Educational Partnership Program. The 10 other AAEP Educational Partners are Boehringer Ingelheim, Cargill, Dechra Veterinary Products, IDEXX Laboratories, Luitpold Animal Health, Merck Animal Health; Nutramax Laboratories Veterinary Sciences Inc., Platinum Performance, Purina, and Zoetis.