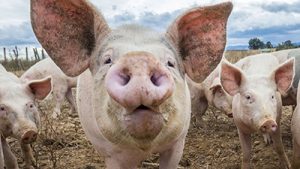 North American domestic pigs could be susceptible to Japanese encephalitis virus infections, according to a study by Kansas State University (KSU) College of Veterinary Medicine researchers.
The study, believed to be the first of its kind in the U.S., was published recently in Scientific Reports.
"Collectively, our study demonstrates for the first time that North American domestic pigs can contribute to the Japanese encephalitis virus transmission cycle as amplifying hosts," said So Lee Park, a third-year veterinary student and concurrent doctoral student in pathobiology who was first author of the study.
Japanese encephalitis virus is a mosquito-transmitted flavivirus that has human and veterinary health significance.
The virus is the leading cause of vaccine-preventable encephalitis in Asia and the western Pacific, according to the Centers for Disease Control and Prevention (CDC). The virus can be maintained in a cycle between mosquitoes and vertebrates, mainly pigs and wading birds. While most human infections are mild, a small percentage of people develop encephalitis. About 1 in 4 cases of Japanese encephalitis are fatal, the CDC stated.
The virus in swine can cause encephalitis in piglets and reproductive diseases in mature adult pigs.
The KSU study suggests that Japanese encephalitis virus may have the potential to become endemic in the U.S. after an introductory event similar to the recent emergence of West Nile virus, a closely related flavivirus, said Dana Vanlandingham, Ph.D., MS, associate professor of diagnostic medicine and pathobiology and corresponding author.
Earlier research at KSU found that some North American mosquitoes can transmit the virus.
"This means that all components of the transmission cycle are present in the U.S.," said Scott Huang, Ph.D., assistant research professor of diagnostic medicine and pathobiology.
While a Japanese encephalitis virus event has not yet occurred in the U.S., the KSU researchers recommend increased international and possibly local surveillance of the virus through diagnostic methods. The virus is both a significant swine and human pathogen that cannot be ignored, researchers said.
The research was conducted at KSU's Biosecurity Research Institute. Support for the research was provided in part through a National Bio and Agro-defense Facility (NBAF) transition grant from the state of Kansas. Japanese encephalitis virus is a priority pathogen that will be studied at NBAF, a federal facility that is under construction adjacent to the university's Manhattan campus.