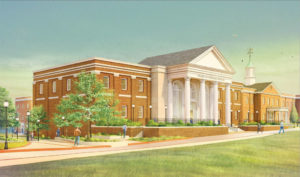 Students in the Northeast now have a fourth option to study veterinary medicine.
Long Island University's (LIU's) College of Veterinary Medicine says it has received a "Letter of Reasonable Assurance" from the American Veterinary Medical Association's Council on Education (AVMA-COE).
Starting next fall, the school will begin accepting applications for its DVM program. At full enrollment, the veterinary school will serve 400 students, with 100 in each graduating class. LIU joins the University of Pennsylvania, Cornell University, and Tufts University in offering veterinary programs in the Northeast.
"We are extremely proud LIU's new College of Veterinary Medicine has met the high standards of the American Veterinary Medical Association's Council on Education," said the university's president, Kimberly R. Cline, EdD. "The launch of our veterinary school further elevates LIU, as we clearly continue on our path to status as a nationally recognized teaching and research institution."
LIU says the college will offer hands-on learning experiences through a distributed education model that features supervised clinical experiences throughout the four years of veterinary education. The college has secured partnerships with more than 50 affiliates, including primary care and specialty clinics, zoos, research laboratories and shelters. This allows students to gain real-world experience in surgery, diagnostic support, intensive care, and other critical areas.
"LIU College of Veterinary Medicine faculty, selected based on their strong reputation as scholars and educators, are prepared to offer the highest-quality education to the next generation of globally competent, practice-ready, and entrepreneurial veterinarians," said the college's dean Carmen Fuentealba, DVM, MSc, PhD.
"With our extensive network of research and clinical partners—including pet hospitals, zoos, and animal rescues—the entire region has been enthusiastically anticipating approval of the doctor of veterinary medicine program."