Suggested Veterinary Products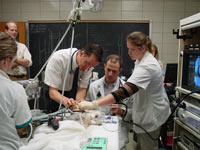 The Louisiana State University School of Veterinary Medicine is hosting  a Small Animal Medicine Symposium on April 27. The event, sponsored by Pfizer Animal Health, will focus on infectious diseases of dogs and cats.
Edward Breitschwerdt, DVM, professor of internal medicine at the North Carolina State University College of Veterinary Medicine, will speak. He will discuss the molecular diagnosis of infectious diseases, persistent blood-borne infection, vector-borne infections and canine bartonellosis.
Other topics will include canine ehrlichiosis and anaplasmosis, methicillin-resistant staphylococci, mycoses, canine leptospirosis, endocarditis, American trypanosomiasis and challenging infectious disease cases.
Eight hours of continuing education credit are available.
Registrations received by April 23 will be complimentary. Thereafter, the administrative fee will be $25.
For details, call 225-578-9900 or visit www.vetmed.lsu.edu.