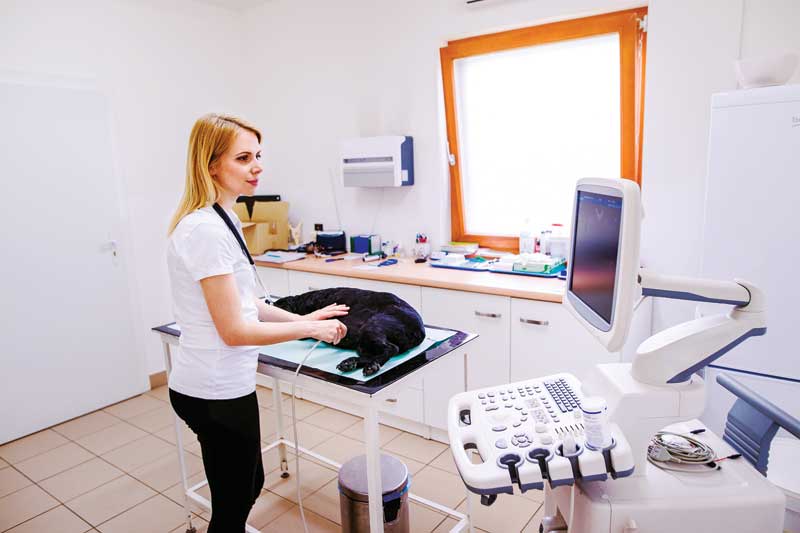 The task of determining the best return on investment (ROI) on veterinary clinic equipment isn't easy. Myriad variables enter into purchasing decisions, including cost and tax savings from depreciation; whether to pay cash or finance; operating costs, maintenance, and service plans; personnel costs to operate the equipment; staff training; projected frequency of use; and client charge structure.
"With these variables and possibly others, payback could range from a few months to several years," said Drew Blackstone, president and CEO of Apexx Veterinary Equipment Inc. in Englewood, Colo. "If everything aligns and you're comfortable making the investment, pull the trigger, and start delivering better medicine and making revenue."
Primary investment concerns
Many equipment manufacturers agree on two primary questions practitioners should ask themselves: Will this equipment help our patients, and is it a good investment?
Other questions to ask at the sales stage involve available upgrades, after-sale support, and estimated costs of training and installation, Blackstone said.
Clinics should make training requirements and costs a top consideration, said Aaron Bakken, sales director for K-Laser in Franklin, Tenn.
"The best ROI equipment purchases are those that are easiest to implement for the staff, are applicable to a large percentage of patients, and are easily explained and/or adopted by clients," he said.
Bakken said laser therapy machines rank among equipment that can offer the best and quickest return on investment, and added that it's not uncommon for practices to see an ROI on lasers in six months to a year.
Regardless of the equipment purchase, high-quality manufacturing and design, expected longevity, and the brand's market share and reputation are key considerations, he said.
Treatment is predicated by knowing a patient's underlying health issue, which is why diagnostic equipment provides great ROI, Blackstone said.
"Imaging and lab equipment, also therapeutic devices, such as IV pumps or therapy lasers, provide not only some of the best opportunities for return, but they also improve the level of patient care," he said.
Budget may be among the first questions a clinic must ask, according to Amy Harlacher, executive director of equipment and supply for Henry Schein Animal Health in Dublin, Ohio.
"The veterinary equipment that provides the best ROI is that which is going to fit your budget, make your practice more efficient, generate revenue, and, most importantly, help veterinary practitioners and their staff deliver high-quality care to your patients," Harlacher said.
She also recommends choosing equipment that connects with your practice management software to enable seamless transfer of patient information across systems and to avoid missed charges.
"Embracing connectivity allows you to choose specific equipment that suits your practice's needs, enhances the quality of care delivered, and helps you build a stronger business," she said.
While price is important, don't succumb to sticker shock, said Blackstone.
"We suggest [practitioners] look beyond best price today and look at long-term cost of ownership and what it will return over a depreciable life-span," he said.
Best practices in-practice
For practices focused on companion animals, in-house or bench-top lab equipment for hematology and blood chemistry are top revenue generators, according to Jim Waldsmith, DVM, president of Vetel Diagnostics in San Luis Obispo, Calif.
Dr. Waldsmith's top ROI imaging tools, in order of return, are radiology, ultrasound, video otoscope/opthalmascope, and endoscopy. His equine list includes radiography, ultrasound, endoscopy/gastroscopy, "stall-side" lab equipment for Serum Amyloid A testing, i-STAT Serum chemistry and electrolyte results, and in-house equipment for hematology, blood chemistry, microbiology culture, and sensitivity incubators.
However, Waldsmith urged practitioners to avoid lab service contract programs that promise freebies in exchange for a multiyear exclusivity service contract.
"You usually are required to purchase products from that company at an inflated price, and if you fail to meet your monthly minimum lab volume, you have to make the equipment's lease payment that month," he said. "Also, these types of programs don't prevent the lab company from raising prices over the term of the lease, which is typically 3 to 5 percent per year."
ONE BUYER'S ROI VIEW
Jeff Sanford, MBA, teaches practice management at the University of Georgia's Veterinary Teaching Hospital and regularly consults with veterinarians across the U.S.

He works with at least 30 practices a year, and one thing he's often asked for is his opinion on getting the best return on investment (ROI) on veterinary equipment.

"Computer equipment is probably the best return on investment, because you do so much with it," Sanford said, referring to computer hardware and software. "It doesn't generate money; it's a facilitator. If it's used right, it can create a better workflow."

Dental X-ray equipment was next on his list.

"If a practice is already doing good dentals, then dental X-ray is a piece of equipment they should consider," he said, and added that if a clinic already is doing dental on a pet, an X-ray can show the owners the improved condition of their pet's mouth and that their investments in cleaning and care are paying off.

"Digital X-ray, if used properly, secures a charge for every dental that you do," he said. "Really good practices will do more dental X-rays than other X-rays."

On the flip side, potential clients may view practices that don't offer dental treatments and a dental X-ray as behind the times, Sanford said.

"I wouldn't say this five years ago, but now, dental is considered standard of care," he said. "If a practice is doing good dentals, a digital X-ray makes a lot of sense, and you'll get your return pretty quick."
Giving clinics real bite
Many practitioners find that dental equipment is a significant revenue generator, said Andrew W. Schultz, director of business development and clinical services for Midmark Animal Health in Dayton, Ohio.
"It is widely recognized that dentistry represents the single biggest opportunity for enhancing patient care and practice income," Schultz said.
As an example, he quoted a Midmark study that showed hospitals that used dental X-ray to diagnose and then treat disease were able to double their dentistry revenue within 12 months, almost triple the production per doctor, and add an average of $75,000 in incremental income to their veterinary practices.
"Income from the fees charged for taking the radiographs paid for the cost of the equipment within the first year, but when you count the revenue generated in treating the disease that was discoverable only via radiographs, the investment was paid back in a matter of months," Schultz said.
When can you expect 
the big payback
Industry experts' opinions vary on how long equipment return should take. Waldsmith said his formula is easy.
"With the speed technology is now advancing, three-year-old equipment is out of date with respect to state of the art," he said. "Ideally, the equipment produces three times its monthly cost and has paid for itself within three years or less."
First and foremost, a successful equipment purchase can be considered one that is readily adopted by your staff, and integrated into your practice. In turn, it should generate a new revenue stream with a return on investment in six months to one year, Bakken said.
However, the time factor should not be on top of clinic's list of ROI considerations, Harlacher said.
"Choosing to invest in equipment or software should align with the practice's short- and long-term business-plan goals," she said. "ROI and its time frame should not be the initial factor when considering implementing equipment/software."
Helping to increase compliance, provide better health assessments and outcomes, retain and obtain new clients, and improve the workplace environment all are factors that should be placed above any expected timeframe, she said.
 ROI TIPS FROM THE FIELD
There are many factors to consider when purchasing equipment, but a few key points can help practices determine if they will get a good return on their investments. Here's what a panel of manufacturers had to say:

Aaron Bakken, sales director for K-Laser in Franklin, Tenn.

Talk to peers and those you admire in the industry.

Consider the driver behind an equipment purchase to uncover what you need from it.

Understand the importance of a thorough and interactive demonstration.
Drew Blackstone, president and CEO of Apexx Veterinary Equipment Inc. in Englewood, Colo.

Tell vendors exactly what you're looking for, and hold them to your budget.

Don't compare brochures without qualifying your objectives with a sales representative.

Choose equipment from companies that offer multiple models (including demo or pre-owned models), specialize in equipment, eliminate middle men, and offer trade-in or trade-up programs to grow with technology and your objectives.
Amy Harlacher, executive director of equipment and supply for Henry Schein Animal Health in Dublin, Ohio

Determine where your greatest needs lie in terms of treating patients and building a more efficient, profitable practice.

Don't let price be the sole determining factor when looking to provide the best care for your patients or the greatest value for your practice.

Understand the fine print when negotiating contracts, maintenance fees, service agreements, warranty terms, and after-purchase support.
Jim Waldsmith, DVM, president of Vetel Diagnostics in San Luis Obispo, Calif.

Plan your wish list for the next three years (as interest rates start to rise), consider the cost of money today versus what future interest rates will do, and see if buying now makes both short- and long-term financial sense.

Buy the product that meets your needs and offers the longest initial warranty or support service, as support contracts are ongoing costs many fail to consider.

Secure all cost of ownership and support details. (If the product fails, are loaners included? Who pays the shipping? What is the downtime guarantee?)

Pay attention to the interest rate, buyout terms, and prepayment options when financing.
Andrew W. Schultz, director of business development and clinical services for Midmark Animal Health in Dayton, Ohio

Ask about installation. Units can be heavy and cumbersome to install, and if done incorrectly, patients, staff, and the investment are put at risk.

Ensure staff is trained on how to efficiently obtain quality, full-mouth X-rays, and veterinarians can read the radiographs and treat discovered disease.

Look for manufacturers committed to continuous improvement from user feedback, as well as equipment that comes with lifetime free technical support and complimentary software updates.
Peter Vitruk, Ph.D., founder of LightScalpel, Aesculight, and LuxarCare in Woodinville, Wash.

Research the company.

Determine servicing plans for U.S.- and foreign-made equipment.

Take a test drive before you buy.