Mars Petcare US and sister Mars Inc. division The Nutro Co. broke ground today on an $87 million, 90-acre pet food product innovation center in Thompson's Station, Tenn.
The center will be Mars' fifth regional pet food innovation center in the world as it decentralizes product development.
The facility will feature four buildings and focus on developing products for the North American market.
A 39,904-square-foot innovation center will house offices for research and development teams and a microbiological and analytical laboratory.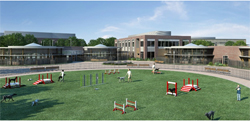 The innovation center's pet health and nutrition center will feature agility and training courses.
A 56,589-square-foot product development center will produce small batches of products for testing and may also produce samples of new and existing products.
A 28,461-square-foot pet health and nutrition center, largely based on Mars' Waltham Centre for Pet Nutrition in the United Kingdom, will house dogs and cats involved in feeding trials. The facility will also provide the animals with play areas, regular visits from caretakers, grooming services and veterinary care.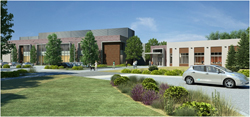 An architectural rendering of the exterior of the Mars Nutro regionional innovation center.
A 10,302-square-foot shared services building will feature a conference center and break rooms.
The company expects construction to be competed in spring 2014. The new center will support 144 jobs, Mars reported.
"Pets and their owners in the North American market seek high-quality, cutting edge nutrition, and our new regional innovation center will ensure Mars Petcare and Nutro products deliver on that promise in new and exciting formats," said David Macnair, global vice president of research and development for Mars Petcare.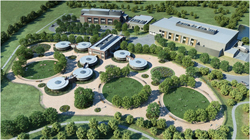 The Mars Nutro regional innovation center will span 90 acres and four buildings.
The 90-acre campus will be designed by Nashville architectural firm Hastings Architecture Associates Inc. and build by general contractor Brasfield & Gorrie to achieve Gold LEED (Leadership in Energy and Environmental Design) certification from the U.S. Building Council, Mars reported.
As part of the ground-breaking festivities, Mars Petcare president Ulf Hahnemann and Nutro president David Ansell presented a $50,000 donation to the Thompson's Station Greenway Trails project.
Thompson's Station is located within Williamson County, Tenn., as is Franklin, Tenn., where both Mars Petcare U.S. and The Nutro Co. are headquartered.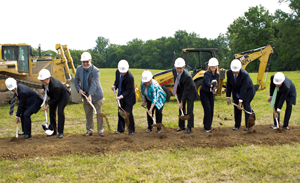 From left, ceremonial ground breakers included Ulf Hahnemann, acting president of Mars Petcare US; David Ansell, president of The Nutro Co.; Rick Gleadall, senior project manager of Mars Petcare US; David Macnair, global vice president of R&D for Mars Petcare; Linda Mars; Tennessee Governor Bill Haslam; U.S. Rep Marsha Blackburn; Williamson County, Tenn., county mayor Rogers Anderson; and Thompson's Station mayor Corey Napier.