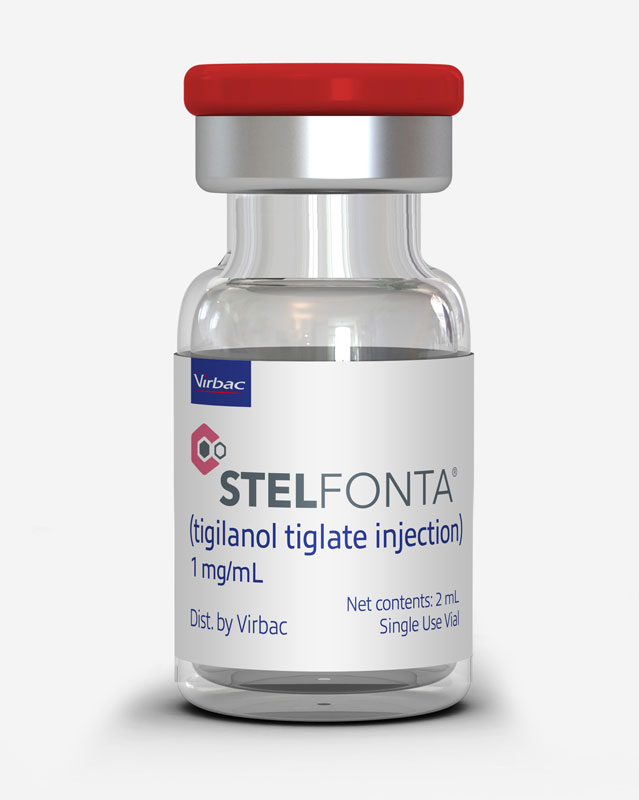 Dogs afflicted with non-metastatic mast cell tumors (MCTs) can now benefit from a new and novel treatment method.
The U.S. Food and Drug Administration (FDA) has approved QBiotics' proprietary Stelfonta injectable solution for treatment of non-metastatic, skin-based (cutaneous) and under-skin (subcutaneous) MCTs in particular areas of a dog's leg.
The drug, which is injected directly into an MCT, contains the active pharmaceutical ingredient tigilanol tiglate. This molecule activates a protein that spreads through a treated tumor and disintegrates tumor cells.
"This is the first approval for an intratumoral injection to treat non-metastatic mast cell tumors in dogs," says Steven M. Solomon, DVM, MPH, director of the FDA's Center for Veterinary Medicine (CVM). "This approval provides an additional treatment option to help treat local mast cell tumors on or under the skin in dogs."
MCTs are the most common type of malignant skin tumor in dogs and usually present as a lump on or under the skin. Full surgical removal can be difficult when MCTs are located in certain areas, such as the leg. When not fully removed, the remaining malignant cells can grow and spread rapidly.
The drug's safety and effectiveness was established in a study of 118 dogs with a measurable cutaneous or a subcutaneous MCT on the lower leg. Eighty dogs were treated with the injectable and the remaining 38 were kept in an untreated control group.
Tumor response was assessed nearly a month after the dogs' first injection; the complete remission rate after treatment was 75 percent. Eighteen participants that did not have their tumor completely disappear received a second treatment; 44 percent had their tumor disappear completely after the second injection.
Additionally, the dogs in the untreated control group were given the drug for the first time a month after the study began, and 62 percent had their tumor disappear.
The prescription-only medication should always be administered with a corticosteroid, an H1 receptor blocking agent, and an H2 receptor blocking agent to decrease the risk of severe systemic adverse reactions (including death) from mast cell degranulation, FDA says. Additionally, the injectable should not be used to treat subcutaneous MCTs located above the elbow or hock. Possible adverse reactions include wound formation at the tumor and injection site reactions (e.g. pain, swelling, reddening of the skin, bruising, thickening, scarring, death of some cells in the tissues).
Stelfonta will be marketed in the U.S. by Virbac.