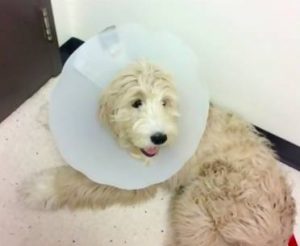 Several days after undergoing a routine spay procedure earlier this month, 4-month-old goldendoodle Roxy developed complications and was rushed to Willowdale Animal Hospital in Toronto.
When owner Natasha Goodman said she couldn't afford to pay $8,000 for the emergency surgery, the doctor told her the "other option was to surrender the dog to her clinic," Goodman said.
The owner, citing concerns for Roxy's health, surrendered her pet to the hospital, meaning that it could keep the puppy. Goodman instantly regretted the decision, she said.
Goodman said that after several attempts on her part to get Roxy back, Willowdale Animal Hospital contacted her to seek a resolution only after a Toronto news outlet, CTV Toronto, aired the story.
Goodman thanked news anchor Pat Foran for helping her get Roxy back home.
"I don't think I would have got Roxy back had it not been for you," Goodman said.
A spokesperson for the clinic said in a statement that emergency surgery was performed at no cost and that the hospital has "been diligently and ethically working with Natasha Goodman… We are pleased to confirm that Roxy has been reunited with her family."
Goodman said she and her family were glad to be reunited with Roxy.
"She looks very good," Goodman said. "It's a great feeling to have a family member back."