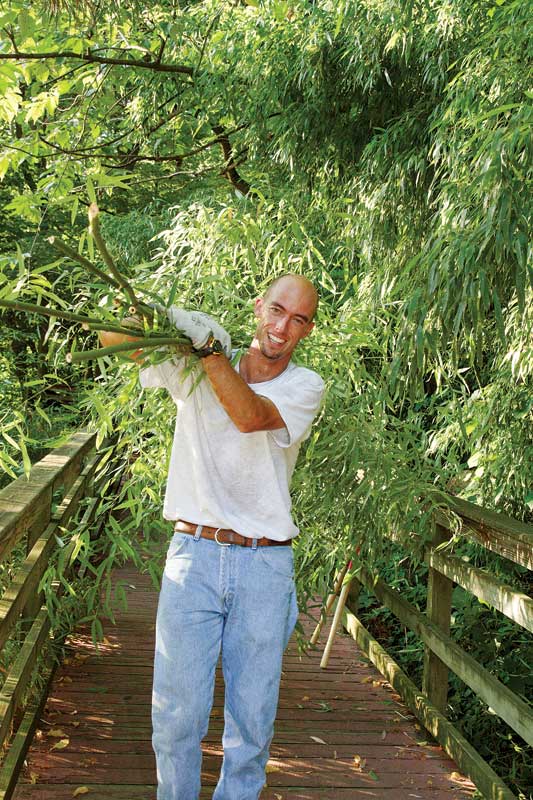 As senior nutritionist and head of the department of nutrition science at the Smithsonian's National Zoo and Conservation Biology Institute in Washington, D.C., Mike Maslanka has a lot of hungry mouths to feed each day: nearly 1,800 across 360 species ranging from Asian elephants to black pacus, a fruit-eating relative of the piranha.
The day starts early for Maslanka and his 13-member nutrition team. Each species has its own unique nutritional needs, so special diets must be prepared and measured. Carnivores receive servings of meat, herbivores a selection of fruits, vegetables, and greens. Vitamin-rich pellets and other supplements may also be part of an animal's diet. The goal, Maslanka says, is to provide as closely as possible the natural nutrients each species consumes in the wild to ensure its best health.
Maslanka comes to his job with a unique perspective. He received his bachelor of science in forestry and wildlife science from Virginia Polytechnic Institute and State University, and his masters of science in nutritional physiology from the University of Minnesota, where much of his work involved dairy cows.
He completed the zoo nutritional residency at the Brookfield Zoo in Chicago and worked at the Memphis Zoo, the Fort Worth Zoo, and the Georgia Aquarium before joining the Smithsonian's National Zoo 15 years ago. In addition to his responsibilities there, Maslanka is a professional fellow in the Association of Zoos and Aquariums (AZA), serves as the chair of the AZA Nutrition Advisory Group, is a member of the Comparative Nutrition Society, and serves as the nutrition advisor for numerous Species Survival Plan (SSP) and Taxon Advisory Group (TAG) programs across a variety of taxa.
A unique skillset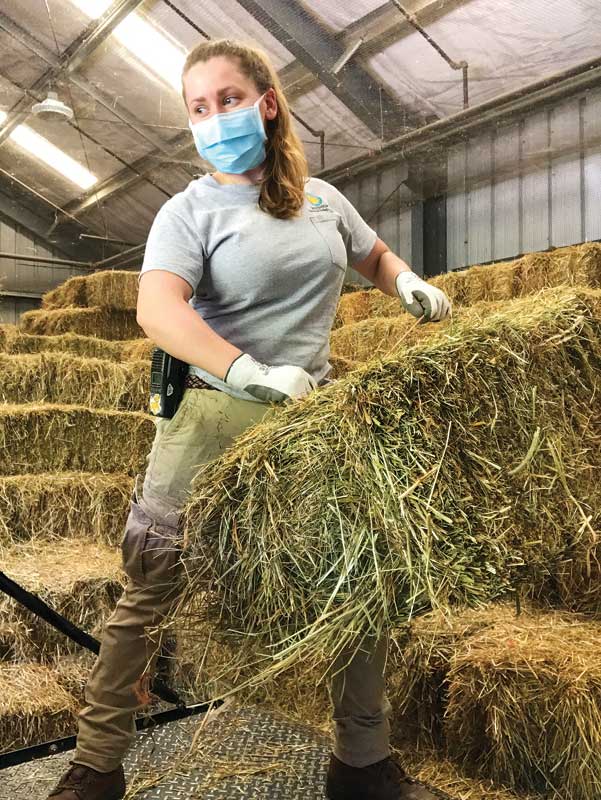 The job of senior nutritionist can be challenging, Maslanka says, because very little is known about the nutritional requirements of a great many exotic species.
"When I got out of graduate school, I knew a few species very well, mostly domestics," he says. "A residency in zoo nutrition opened up at the Brookfield Zoo. I applied, and I was lucky enough to get it. Then I had the daunting task of learning all the other species I didn't know.
"I learned the phrase 'comparative nutrition.' I also learned even though a lot of zoo animals don't look like dairy cows on the outside, they function like dairy cows on the inside. That helped me out a lot. I came to understand my background in nutrition, nutrient biochemistry, and all the things that I had learned through undergrad and graduate school were really applicable across all species."
Indeed, zoo management is a collaborative endeavor, and the department of nutrition science works closely with all other departments, but especially the veterinary department. "Mike brings a lot of technical knowledge," says chief veterinarian Donald Neiffer, VMD, CVA, DACZM, MHS. "He also brings a problem-solving approach that involves getting input from other stakeholders, including veterinary. As a result, the nutrition department is actively engaged in the management of our collections and jointly driving our mission forward."
Working together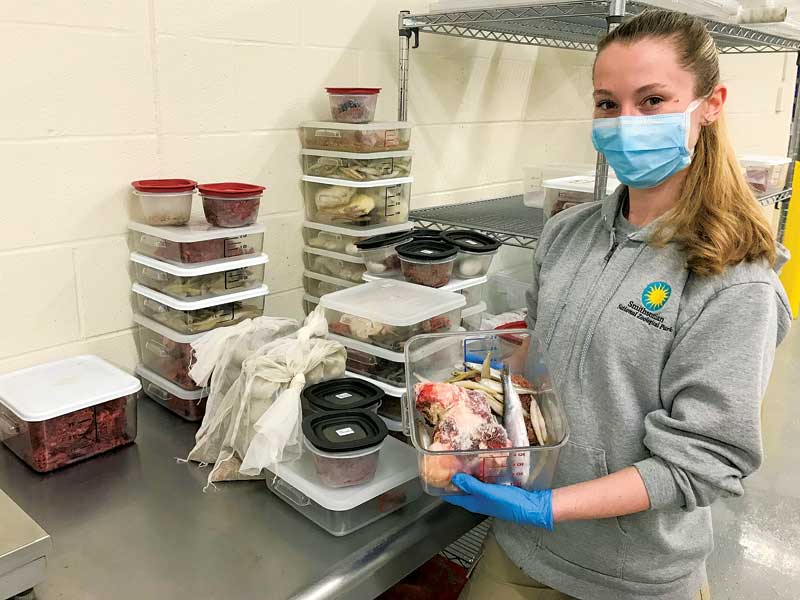 Maslanka and his team are often called upon to consult with zoo veterinarians regarding a wide array of health issues, Dr. Neiffer adds. "Mike or clinical nutritionist Erin Kendrick are present during many procedures to offer a general evaluation of the animal's overall condition," he notes.
"That helps with any discussions we have about dietary changes or concerns. We don't always agree on what we rate an animal to be, and that's okay as we come at it from different perspectives. But having that on-the-ground, face-to-face experience, nutritionally that's probably the single most important thing we're involved in. The veterinary department regularly includes nutrition in email discussions or meetings to talk about problems and to find a path forward to address things that have a nutritional basis," Neiffer says.
Neiffer recalls a collaboration with the nutrition team regarding the zoo's maned wolves, a canid species found in South America. The species can experience significant gastrointestinal issues, including inflammatory bowel disease, and Maslanka and Kendrick have been deeply involved in finding a dietary solution to the problem. "That's a good example of how they are involved with individual animal care, working with veterinarians on animals that need it," Neiffer says.
Maslanka's primary job is ensuring the zoo's animals get the best diet they can. The commissary, where all of the food is prepared, is a massive 23,000-square-foot space that includes a large kitchen, industrial freezers, and a warehouse. Maslanka won't reveal the zoo's total annual food budget, only that it's north of $1 million.
This is understandable, considering the dietary team makes thousands of diets per day involving ingredients ranging from meal worms to rats to large chunks of beef. The zoo goes through a half ton of bananas a month, Maslanka says, and about seven tons of different kinds of greens each year. It also grows and harvests its own hay.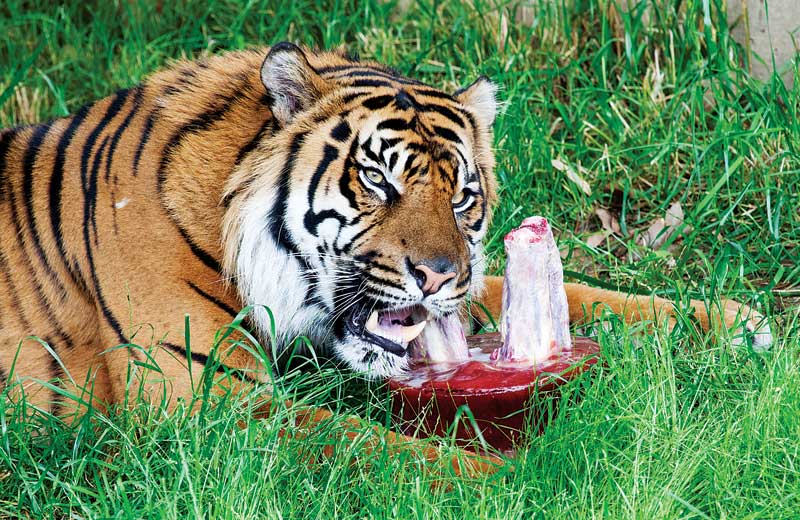 "We're the only zoo in the country that does that," Maslanka says. "My agricultural background gets to be utilized all year round when we talk about fertilizing, mowing, raking, baling, and storing hay. We do all of that."
Reaching for the highest standards possible
Research is also an important component of the department of nutrition science, with a focus in two specific areas: milk composition and nutritional ecology. The former explores such things as lactation physiology, the mother/offspring relationship, and the signaling mechanisms that get transferred between the two. The Smithsonian's National Zoo is well positioned for such studies because it houses the largest collection of exotic animal milk in the world.
Meanwhile, nutritional ecology explores the bigger picture of animal nutrition. "There is so much we don't know about the natural world when it comes to nutrition," Maslanka explains. "The whale shark is good example. When I was with the Georgia Aquarium, we didn't really know how much whale sharks ate free ranging, or how they ate it. They have a very unique food filtration system, and we were able to define from a feeding ecology standpoint what their diet was comprised of and how much they consumed on a daily basis free ranging, compared to in an aquarium."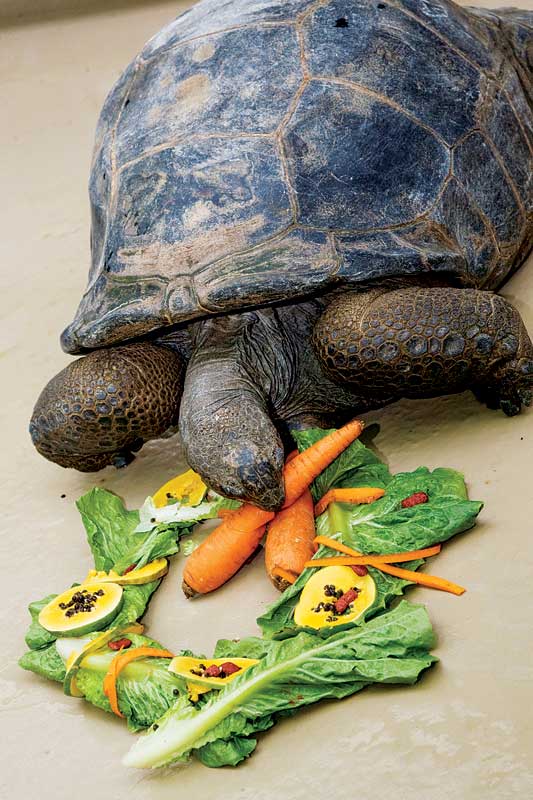 At the Smithsonian's National Zoo, Maslanka was asked to review the diet of giant Galapagos tortoises, something that had not been done in 40 years. "We got a chance to follow free-ranging Galapagos tortoises, sample the plants they were consuming, bring those back to the lab, and look at the nutrition content," he says. "This summer we'll be looking at the nutrient composition of free-ranging gorilla food in Rwanda, where we're also continuing to look at the body composition of migratory songbirds."
Though his job has him on the go throughout the day, Maslanka says the work brings him great personal satisfaction. "From an applied standpoint, at the end of the day when we have all of the diets prepared for the next day, that's a great feeling of accomplishment," he says. "Granted, I'm not involved a lot in that particular aspect, but that's our team, that's what we do.
"For Erin and me, the satisfaction comes not only from the day-to-day of making sure the diets are balanced, but also some of the critical care situations in which we're called on to make feeding formulas or treat an animal that has a specific disease process going on, and we have to make a diet adjustment to account for that. Beyond that, because there are so few zoo nutritionists, we spend a lot of time training the next generation. Being able to visit with students and engage them the way we do is very satisfying."  
Don Vaughan is an award-winning writer who frequently writes about veterinary-related topics.