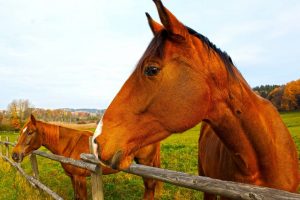 The Unwanted Horse Veterinary Relief Campaign (UHVRC), which helps protect the health of horses in rescue, celebrates its 10-year anniversary this month.
Through the campaign, first established by Merck Animal Health and the American Association of Equine Practitioners (AAEP), thousands of doses of core and risk-based vaccines have been donated to qualifying equine facilities in need.
"While the need may seem unending, every contribution—great or small—makes a difference for these horses," says Ron McDaniel, Merck Animal Health director of equine sales and UHVRC cofounder.
"It is humbling to witness the impact rescue and retirement facilities are making, along with the sponsoring AAEP-member veterinarians who have dedicated their time and resources to help them."
Equine rescue and retirement facilities are selected to receive complimentary equine vaccines based on the completed application, compliance with the AAEP care guidelines for rescue and retirement facilities, tax-exempt status, potential impact on horses' lives, and professional manner in which it is managed.
Over the program's 10-year history, nearly 28,000 horses were vaccinated thanks to more than $1 million in Merck Animal Health vaccine donations.
"The AAEP's mission is to protect the health and welfare of the horse, and there is no better demonstration of this principle than the work of the UHVRC," said AAEP executive director, David L. Foley.