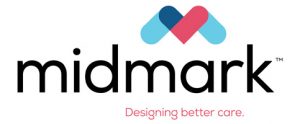 Midmark Corp., a provider of veterinary, medical, and dental equipment, launched a new corporate brand identity that "captures the company's commitment to a better care experience and the growing value Midmark offers customers as they focus on improving clinical outcomes," said the company in a statement.
The rebranding, which features a new website, logo, tagline (Designing better care), and more, "mirror[s] the transformation of Midmark from an equipment manufacturer into a clinical environmental design company," the company stated.
"Care providers are always looking for new approaches, innovative technologies and proven solutions that can help enhance the patient and caregiver experience and improve the quality of care provided," said John Baumann, president and CEO. "Improving the experience between the patient and caregiver is at the heart of everything we do. Whether we are talking about a doctor's office, dental practice, or veterinary clinic, better care starts with a better-designed care environment, which leads to better outcomes."
The Dayton, Ohio-based company, founded in 1915, has production and administrative offices in Versailles, Ohio; six other locations in the U.S.; and subsidiaries in India, Italy, and the U.K.