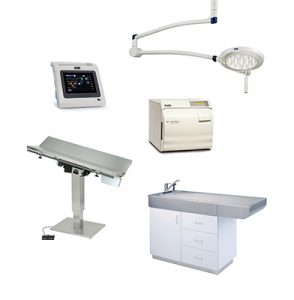 Midmark Corp. has launched a promotion for 2018, The Edge, which gives veterinarians and veterinary facilities the opportunity to receive cash rebates with the purchase of select veterinary equipment now through Aug. 31.
During the promotion, rebates of up to $750 per item are available with the purchase of eligible animal health products through an authorized Midmark dealer. Rebates include:
Stainless-Steel Lift Tables with Scales, electric or folding ($375 rebate)
Stainless-Steel Lift Tables without Scales, electric or folding ($275 rebate)
Midmark Wet Dental/Treatment Lift Table ($750 rebate)
Midmark Exam Lift Table ($750 rebate)
255 Single LED Procedure Light ($100 rebate)
255 Dual LED Procedure Light ($300 rebate)
Midmark Diagnostic Monitor ($150 rebate)
Midmark M9 or M11 Automatic Sterilizers ($400 rebate)
In addition, discounted pricing is also available on a broad selection of Midmark products including:
Containment
Kennel runs
Surgery tables
Lift tables
Exam tables
Treatment tables
Grooming and tubs
Scales
Exam and treatment lighting
Dates to remember:
Promotion order period: June 1 – Aug. 31
Last date to take shipment of products: Sept. 30
Invoice must be dated: June 1 – Sept. 30
Last date to redeem incentives: Oct. 31
For product inquiries, call the Midmark Customer Experience Department at 1-800-MIDMARK or visit midmarkanimalhealth.com. For questions regarding the promotion, please call ext. 107575.