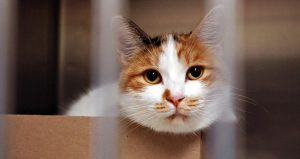 Maddie's Fund, a national nonprofit that supports the status and well-being of companion animals, is granting more than $2.5 million to support the Million Cat Challenge as it expands to into its next phase of animal lifesaving in shelters across North America.
The challenge, a campaign to save the lives of one million shelter cats, met its goal one year early, thanks to the grant. The next stages of the challenge will focus on communities where cats are still at risk and helping to make lifesaving the norm across shelters through its five key initiatives: alternatives to intake, removing barriers to adoption, managed admission, return to field, and capacity for care.
"The challenge has revolutionized animal sheltering for cats," said Mary Ippoliti-Smith, Maddie's Fund executive leadership team. "Moving forward, initiatives such as making adoptions easier and managing the admission of cats to match the shelter's ability to assure humane care will become everyday practices for all animals in shelters."
"One of the great benefits of the Million Cat Challenge was that it taught us how much progress was truly possible," said Challenge co-founder Kate Hurley, DVM, of the University of California, Davis Koret Shelter Medicine Program. "That inspires us to aim even higher, not just for cats but for all animals in shelters. Thanks to Maddie, we look forward to saving even more lives during the next phase."
Since its creation in 1994, Maddie's Fund, a family foundation created in 1994 by Dave and Cheryl Duffield, has endowed the foundation with more than $300 million. It has awarded more than $208.9 million in grants toward increased community lifesaving, shelter medicine education, and pet adoptions across the U.S.