The veterinary monitor market seems to be steering away from aging human hand-me-downs, and there are more choices today than ever before.
Variety is usually a good thing, but not always, warned Andrew W. Schultz Jr., director of business development for Midmark Animal Health in Versailles, Ohio.
"Quality [can be] an issue because there are no regulatory requirements or manufacturing standards that must be adhered to," Schultz said.
When Schultz talks about monitor quality today he's referring to not just how well those products are made but the quality of everything in the monitor market from the sales experience to the user interface.
While some monitors may fall short of Schultz's expectations, he does believe some recent monitors provide an ever-improving experience for the buyer.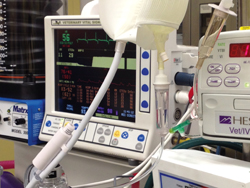 Neonatal medicine has contributed greatly to improvements in veterinary monitors.
SystemVet
The better companies continue to improve the customer experience, Schultz said, "from intuitive menus, better functioning accessories and veterinary-specific instructions, to professional clinical technical support that helps to train staff on monitor set-up and more quickly diagnose and fix trouble when it occurs."
Monitor Hand-Me-Downs
The market is heading into a phase in which monitors are being made specifically for veterinary use, according to Paul Ulbrich, CEO of Vmed Technology in Mill Creek, Wash.
"Fewer products are human monitor hand-me-downs," Ulbrich said, adding that his company makes its products exclusively for veterinary use and validates all its products for veterinary patients.
Dan Kozisek, customer service director for Bionet America Inc. in Tustin, Calif., said the biggest limitations of old monitors are in blood pressure and end tidal CO2 (EtCO2), and that practices earning a more moderate income traditionally were often stuck with whatever monitors they could afford.
"Early blood pressure technology was notoriously unreliable, especially with cats. EtCO2 was a luxury for the wealthy practices," Kozisek said. "It is now within reach of even startups."
Monitor Accuracy
Some monitors on the veterinary market are geared to capture human heart rates, falling way short for exotics and sometimes for companion animals with problems yielding abnormal heat rates, according to Vmed's Ulbrich.
"Most products are limited in the heart rate they detect," said Ulbrich, noting that Vmed makes monitors that can track rates to 800 beats per minute. "Human monitors track heart rate at 20 to 300 bpm. While this range is adequate for most small animals, it will not register with the occasional tachycardia and is pretty much useless for exotics."
Schultz said he has seen gradual improvements in the accuracy of monitors for quite some time.
"Validated veterinary–specific BP algorithms have been around for over a decade, as has digital pulse oximetry. Both major breakthroughs for obtaining reliable vital signs readings in cats and dogs," he said.
Monitor Complexity
Complexity and increased utility have also crept into monitors coming to market, as clinics have slowly moved from individual hand-held units that monitor a single parameter to monitors that read five or more vital signs.
And a major upside to these improvements is they have yielded greater efficiency for their users, though the units require a bit of training, Schultz said.
"The days are gone when relying solely on a pulse oximeter or ECG machine is considered adequate as a standard of care," Schultz said. "So as practices have adopted the more predictive and responsive parameters such as automated non-invasive blood pressure and EtCO2, formal training on how to respond to all the new information is critical to providing for better patient outcomes."
Schultz sees this modernization taking hold in an increasing number of new products. And products that aren't being modernized to reflect the needs for more information to be delivered to vets and their staffs are clearly falling short, he said.
For example, monitors that do not use digital pulse oximetry will fail to read under conditions of patient movement and poor perfusion, Schultz said, adding, "Thus, when using modern pain medication like Dexdomitor, which is vasoconstrictive, the readings will drop out."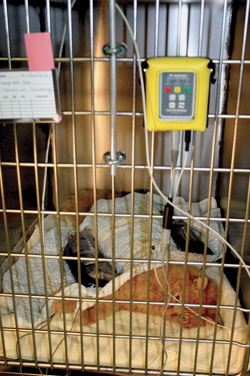 Post surgical use of wireless ECG, respiration and temperatire monitor.
Vmed
Monitor Breakthroughs
Bionet's Kozisek sees one of the biggest breakthroughs in monitors in the use of "plug-and-play" upgrades.
"In the past, the monitor would have to go to the factory or service center for upgrades," Kozisek said.
"Now you purchase the sensor, change a menu item, and you are good to go."
Gerald F. Maass, president and chief operations officer of CardioCommand Inc. in Tampa, Fla., said for his company one of the biggest breakthroughs in the market has been the acceptance of oscillometry as the blood pressure measurement technology versus the more traditional Doppler readings.
"Some of the earlier monitors using the oscillometric method received bad reviews because they weren't sensitive enough for small patients, took too long to get a reading or didn't work well in the presence of motion," he said. "But newer versions have mitigated all of those past challenges, making oscillometric both easier as well as more reliable."
Breakthroughs pointed to by Schultz include more durable and technologically advanced CO2 modules.
"Respironics and Masimo have both perfected durable mainstream CO2 modules capable of withstanding repeated drops on a hard surface from heights of 6 feet, 100 times," Schultz said.
"Since monitoring CO2 is the only way to electronically monitor a patient's ventilation—from a practical perspective—having the accuracy and response time of mainstream CO2 without the risk that the veterinary environment posed to this relatively expensive device is a significant technological advance."
Wireless is another improvement that has recently arrived on the monitor market scene.
Conventional monitors must sit on a shelf or on a stand, with cables extending from the monitor to the operating table.
A wireless monitor, on the other hand, can attach to the table and eliminate the need for wires, enabling full and unconstrained movement of veterinarians and their staffs around the table.
In fact, Ulbrich sees a great number of advantages to wireless monitors, which display data on an external computer screen instead of the standard fixed screen that is part of the entire monitor. By attaching a larger display to the computer, monitoring displays are possible up to sizes of the largest television sets, enabling "superior visibility" throughout the room and beyond, he said.
"Conventional monitors have a built-in display, usually 7 to 10 inches," Ulbrich said. "Built-in displays also drain the rechargeable battery faster, giving a useful time between charges of two to three hours.
Since wireless monitors don't have to power a display, battery life is six to eight-hours. The wireless link to a computer also provides for automatic storage of files to the computer, eliminating downloads."
Jim Arnold, president of SystemVET in Tampa, Fla., credits neonatal medicine for many improvements.
"Veterinary medicine has benefited by advances made in human neonatal monitoring that were not available 10 or 20 years ago," Arnold said, adding that the key advances have been in better software and algorithms for specific patient parameters.
Indirect measurement of blood pressure has seen dramatic improvements over the last 10 years, and over that time the market has witnessed a dramatic increase in EtCO2 monitoring, said Arnold, who like other market watchers said he's seen big breakthroughs in SpO2 technology, low flow EtCO2 , Masimo pulse oximetry, and PetMap and Sun Tech veterinary-specific blood pressure.
Monitor Training
Even with improved technology, a new challenge is arising, and that's a growing education gap with veterinarians and technicians, according to Midmark's Schultz.
"They could purchase the most technologically advanced veterinary monitor, but there is no substitute for a clinician who is trained in how to monitor properly and how to respond to the rapidly changing information the monitor provides," Schultz said. "In addition to the monitor itself, particular attention should be paid to reputation, track record, clinical training and support that the manufacturer offers."
That may in part be why, according to Maass, ease of use and installation have become top considerations for veterinary clinics purchasing new monitors.
"Generally, the successful monitors are easier to use, as, for successful companies, this has been an area of focus during product development," Maass said. The complexity often lies in areas like networking or data exchange, requiring some technological background to get equipment up and running, he added.
"Most practices do not have IT departments, so connecting devices to the electronic medical record is often complex," he said. "It also depends on where the device originates—user interface norms tend to vary."