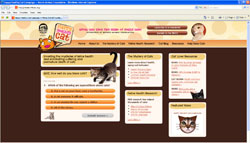 On behalf of the more than 82 million cats in America, the Morris Animal Foundation embarked on a mission to provide felines with their share of health care and research. The Healthy Happy Cat Campaign, launched 11/17/08, aims to raise pet-owner awareness of feline health issues and increase funding for research and scientist training.
"Our goal is that the Happy Healthy Cat Campaign will give veterinarians the tools they need to dramatically improve the health and well-being of all cats," said Patricia Olson, DVM, Ph.D., foundation president and chief executive officer. "As the most popular pet in the country, it's time for cats to receive their fair share of health care, but we need the support and donations of America's cat lovers. There is a tremendous amount of cat health research that must be done."
As part of the campaign, MAF has created a dedicated online resource, www.research4cats.org, with information on feline diseases and symptoms. Additional features include interactive blog entries and quizzes, research success stories and resources for cat owners. The foundation has funded projects in areas including diabetes, kidney and heart disease, cancer, urinary disorders, hyperthyroidism and infectious diseases.
A Happy Healthy Cat Campaign Poster that helps educate cat owners about health warning signs is available to veterinarians at no charge and can be ordered by email at catposter@MorrisAnimalFoundation.org or by calling 800-243-2345.
Hill's Pet Nutrition of Topeka, Kan., donated $1 million to the campaign in addition to a genetic database of research information to help scientists worldwide develop diagnostics and treatments for the most serious feline diseases.