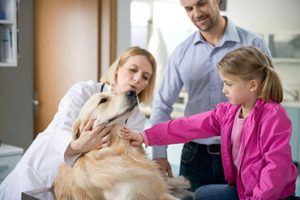 A business team and a house call veterinarian have partnered to launch Mobile Veterinary Services (MVS) Pet Care, the nation's first professional franchise network of house call veterinarians. MVS Pet Care offers general wellness care, vaccinations, and illness and injury care, as well as hospice care and in-home euthanasia.
In addition to solving the longstanding problem for some owners of rustling up reluctant pets for the journey to the veterinary clinic, MVS Pet Care also provides veterinarians with new business opportunities.
"Previously, upon earning their degrees, veterinarians' options were limited to either working in a vet's office or animal hospital, or starting their own brick-and-mortar practice, which is tough," said Todd Giatrelis, co-founder and CEO. "They're typically overworked and underpaid. With MVS Pet Care, they can get into business with significantly lower entry costs than a brick-and-mortar practice. They'll receive training and support, scheduling software and access to unmatched pricing for equipment and supplies through partnerships we've cemented with national pharmaceutical, diagnostic labs and supply companies."
The mobile pet care franchise was developed by Giatrelis, Sarah Towne (president), and Ashley Shimabukuro (COO), whose previous franchises include Flip Flop Shops and Sugar Plum Parties, a themed children's party concept.
Partnering and consulting with MVS Pet Care is Jeremy Gransky, DVM, who has worked in animal hospitals since 1985 and founded At Home Veterinary in 2005, a private veterinary house call service.
"There are many benefits to owning your own house call practice, as opposed to working in an animal hospital," Gransky said. "You can really work up cases and dive into the diagnostics to figure out what's going on even at home. Plus, there's a lot of flexibility. You set your own hours and organize your life the way you want to. Conducting house calls allows you to put your own personal stamp on the practice."
Most state laws require MVS Pet Care franchisees to be licensed veterinarians. There are 15 states that don't require veterinary licenses to own the franchise; however, those franchisees would obviously need to hire a licensed, registered veterinarian to conduct the in-home veterinary care.
"We offer a comprehensive business model for veterinarians wanting to start their own lucrative house-call practice or looking to expand an existing clinical practice with a mobile business," Towne said. "This is an incredible opportunity to get in the ground floor of the booming pet industry, filling demand for a convenient service that's been long overdue for pets and pet parents alike."
The company will officially launch the franchise opportunity at VMX: Veterinary Meeting & Expo in Orlando this month.
For more information, visit mvspetcare.com.