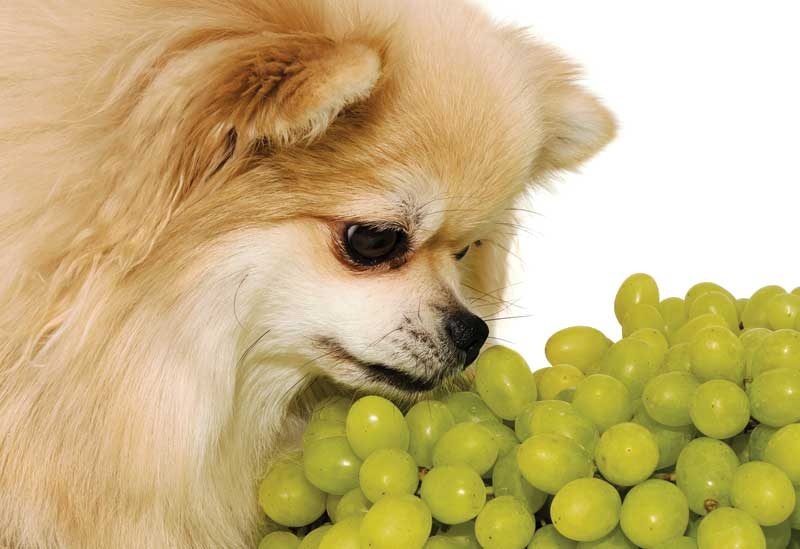 I recently came across a question aimed at veterinarians (and I paraphrase): At what point do you consider treating patients that have ingested raisins or grapes? Is one raisin too many? A handful of grapes? Or are you inclined to treat based on some specific patient size-to-fruit weight ratio?
Quite apart from the trickiness of the question due to the maddening dearth of evidence, the more I worried over it the more annoyingly the personal aspects of this issue started nagging at the part of my brain I think less rationally with.
I do not know about you, but the pet owner who lurks within often proves a nuisance to my veterinary self. So, it is seemingly mundane questions such as these that can knit my brain into knots for weeks. Here is how my thinking goes with respect to how I treat my grape/raisin ingestion patients.
Taking it at face value
Clearly, I am compelled by training to treat my patients based on available evidence. So, I went in search of said evidence and learned a few things many of you are probably already aware of: The curious and oft-cited variability in canine response to this fruit's unknown toxicant also seems to apply to the grape itself. Some varietals may be more toxic than others.
Then there is the news on the possible source of toxicity: In one as-yet-peer-reviewed paper, sodium bitartrate (found in grapes, raisins, tamarind, and cream of tartar) was the common denominator in several acute renal failure cases. Could it be the mystery is nearly solved?
Despite our new suspicions, the scant, published evidence does not yet definitively identify the toxic principle, much less how many grapes or raisins it takes to get to the center of the Tootsie Pop. That means I am stuck in the unenviable position of treating every single patient/event on a worst-case basis, right?
The trouble, of course, is all therapies have their complications. At what point is treating a patient—with all its attendant risks—worse than not treating a patient? (Think: adverse reactions to the emetic or chemical restraint, aspiration pneumonia, the risks related to enthusiastic fluid therapy, etc.) When you get to thinking about the downsides in detail, the list gets longer and longer. Balancing the relative risks and rewards of treatment versus non-treatment often requires a degree of mental gymnastics we are not always willing to properly engage in.
Going a step further
Another problematic concern is knowing your clients often expect aggressive treatment. They would not be in your presence otherwise. There is nothing
more frustrating than trying to talk a client out of treatment when everything they have read claims calamitous kidney failure is sure to result. (Never mind that one grape that might have fallen may have rolled under the table and could have been ingested is very unlikely to adversely affect a 110-lb Rottweiler.)
I mean, for all you know, they are trying to influence your judgment of their pet parenting skills by minimizing the scenario (while simultaneously demanding treatment because they know their dog just ate a whole fridge-full of grapes). The last thing we want is to find ourselves with an ARF patient if the dog really did gorge on grapes and we talked them out of treatment.
Which brings us to the legal issue: Are we putting ourselves at risk when we decline to automatically recommend treatment in all cases? Sure, we are. The unfortunate reality is this: We are more likely to be sued because we did not treat, and the patient ended up in renal failure than because our patient succumbed to the aspiration pneumonia he came down with after we induced vomiting. Our clients do not understand the nuances of care like we do, which puts us in a tough position sometimes.
Next, we have the financial aspects to contend with. Here is what I think: Am I treating all cases primarily because it is financially expedient to do so? I got to thinking about this after reading about one ER's blanket policy to aggressively treat all grape/raisin ingestion suspects, no matter the amount. The cynical me says: Of course, they would want to treat. Why leave money on the table?
The ethical conundrum
This, after all, is a perfect example where conflicts of interest create ethical scenarios that risk undermining our personal integrity, along with our reputation as honest dealers of veterinary information and effective advocates for the health and welfare of our patients. Indeed, it mocks our Veterinary Oath to require all veterinarians offer treatment to all patients in all grape/raisin ingestion situations despite knowing aggressive treatment could lead to adverse outcomes for at-risk patients likely to have ingested minuscule amounts.
I know I have belabored this issue, but it is not like I am the first veterinarian ever willing to chase this rabbit down a hole. Whenever I get into this convoluted way of thinking about a seemingly uncomplicated veterinary issue, it sends me in to client mode. In other words, I inevitably start thinking about recommending veterinary care from a personal pet parent's point of view. After all, I would not treat my 80-lb German shepherd after an accidental bite of oatmeal raisin cookie, but I might treat my 18-lb pug (though I would still think twice given his higher risk of aspiration pneumonia).
Acknowledging bias
As veterinarians, we were always taught to assess our patients dispassionately and offer veterinary advice with no trace of bias. The older I get, however, the more unwilling I am to accept that I could ever be anything but biased. It is like being a political journalist for a major news outlet and claiming non-allegiance to any party. Well, on paper, sure, I may believe you. However, while you may not be a crusader, you will never convince me of your unblemished neutrality.
So it goes with veterinarians—we usually have a pretty good handle on what we would do if this were our personal pet (or a relative's, for example). Then why is it so bad to start acknowledging our personal opinions?
This is not to say we do not have to: a) present information accurately and effectively, b) offer all options, and c) honestly describe any given situation's risks and rewards. What I am saying is this: When a client is having a hard time deciding, it is not wrong to offer what you would do if their pet were yours (assuming you take financial hardship into account).
Making it personal
The upside of this approach is the check on your own personal integrity. It is hard to take advantage of your clients, even subconsciously, when you are honestly thinking about how you would do things if this were your mother's beloved companion and price was no object. It is also more personal and secures your client's trust and compliance in a way you might not otherwise. This approach also has the added benefit of offering a legal cushion––wearing one's heart on one's scrubs has a way of doing this. (Transparency is everything, of course.)
So, what does this say about grapes and raisins? What it acknowledges is the occult complexity of mundane veterinary concerns. In doing so, it also concedes that we often revert to knee-jerk treatment that bears little resemblance to what we would do if these were our personal pets. Of course, there be dragons here, but we find compassion here, too. So, it is a risk I am willing to take.
Patty Khuly, VMD, MBA, owns a small animal practice in Miami and is available at drpattykhuly.com. Columnists' opinions do not necessarily reflect those of Veterinary Practice News.