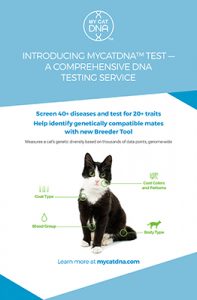 MyCatDNA test,  a new feline DNA test from Wisdom Health, a division of Mars Petcare, is designed to help veterinarians and breeders maintain the health and wellness of cats from a genetic level. MyCatDNA test, also known as the Optimal Selection Feline test in North America, provides insight into an individual cat's unique genetic makeup, allowing breeders to make more informed breeding decisions and subsequently lessen the chance of passing down inherent diseases to future generations.
"New insights based on genetics, such as mutations linked to health conditions and traits, can transform the lives of cats and their offspring," said Leslie Lyons Ph.D., a professor at the College of Veterinary Medicine at the University of Missouri–Columbia. "Having these discoveries and many other tools readily available to cat owners and breeders on a global scale can only improve the health care of cats and our breeding decisions."
The MyCatDNA test develops a comprehensive view of a cat's unique genome, including inherited characteristics. The analysis is able to identify more than 40 genetic mutations that cause inherited feline diseases, as well as traits such as blood type, coat color/length, and body type. Owners can then access online health profiles for their cats, which can also be used to help breeders identify potential mates for ideal compatibility.