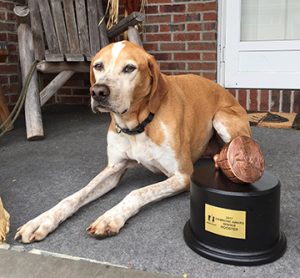 After reviewing nearly 1.5 million pet insurance claims received over the past year, Nationwide has nominated 12 candidates for the 2018 Hambone Award.
Each year, the pet health insurer scours its database of 700,000-plus insured pets to honor the most unusual pet insurance claim of the year. The winner will be decided by a public vote, open now through Oct. 8, at HamboneAward.com.
In addition, the veterinary practice that treated this year's Hambone Award winner will receive a $10,000 Nationwide-funded award through the Veterinary Care Foundation to treat pets whose owners could not otherwise afford treatment.
From a pair of German shepherds who were found after 21 days trapped in an abandoned missile silo to a cat who went through a dryer's fluff cycle, all 12 nominees have uniquely harrowing tales. All nominated pets have made full recoveries and received Nationwide insurance reimbursements for eligible veterinary expenses.
The 2018 Hambone Award nominees
Howard the golden retriever (San Diego). This tech-hungry hound swallowed an electronics charger. Veterinary practice that treated Howard: Bodhi Animal Hospital (San Diego)
Maddy the Labrador (Charlotte, N.C). Water-loving Maddy found herself playing on the shores of danger when she was suddenly stung by a sting ray. Veterinary practice that treated Maddy: Cotswald Animal Hospital (Charlotte, N.C.)
Cheddar the Labrador mix (Fairfield, Conn.). When a birthday brunch got smoky, this cheesy canine found himself under a falling chandelier. Veterinary practice that treated Cheddar: Northway Animal Emergency Clinic (Gansevoort, N.Y.)
Ginger the mixed medium-hair cat (Kirkland, Wash.). Ginger was attacked by a small wild animal that caused him to run up a nearby tree for safety, only to come tumbling down. Veterinary practice that treated Ginger: Animal Emergency Hospital of Redmond (Redmond, Wash.)
Zoe the Maine coon (Miami Beach, Fla.). Zoe nearly lost her life after falling off a fifth-floor balcony. Veterinary practice that treated Zoe: Knowles Animal Clinic (Miami)
Skye the German shorthaired pointer (Dublin, Ohio). Skye's athletic drive steered her into a tennis court collision that resulted in two broken ribs and air around her lungs. Veterinary practice that treated Skye: MedVet (Columbus, Ohio)
Sugar Cookie the Siberian cat (Mooresville, N.C.). Sugar Cookie got overheated after getting stuck in a clothes dryer during the fluff cycle. Veterinary practice that treated Sugar Cookie: Carolina Veterinary Specialists (Huntersville, N.C.)
Blitzen the dachshund (Carle Place, N.Y.). Blitzen went on a "foodie" adventure, chewing a hole through the kitchen wall. Veterinary practice that treated Blitzen: Garden City Veterinary Care (Mineola, N.Y.)
Dottie the Irish setter (Irwin, Pa.). Dottie had an electrifying fall into a heated pond that shocked both Dottie and her owner. Veterinary practice that treated Dottie: Allegheny Veterinary Emergency Trauma & Specialty (Monroeville, Pa.)
Ziva and Zeus the German shepherds (Medical Lake, Wash.). The duo went missing for 22 days, after finding their way into an abandoned missile silo. Veterinary practice that treated Ziva and Zeus: Pet Emergency Clinic (Spokane, Wash.)
Bentley the golden retriever (Belmont, Mass.). Bentley found herself in a sticky situation after accidentally hot gluing her eye shut. Veterinary practice that treated Bentley: Blue Pearl (Waltham, Mass.)
Colbie the husky (Redlands, Calif.). Colbie took dumpster diving to an extreme after knocking over a garbage can and eating six lb. of chicken and chicken bones. Veterinary practice that treated Colbie: Emergency Pet Hospital of Redlands (Redlands, Calif.)
Originally named after a dog who ate an entire Thanksgiving ham while stuck in a refrigerator, the annual Hambone Award has since been given to the most bizarre medical claim each year since 2009.
"Our annual Hambone Award is a great reminder that pet injuries are unpredictable and often come at the most inopportune times," said Carol McConnell, DVM, MBA, vice president and chief veterinary officer for Nationwide. "The stories of our nominees not only bring to light the unusual ways that our pets can be injured, but also showcase amazing advances in veterinary care. These pets all made remarkable recoveries because of the diligence of their owners and the incredible skills of their treating veterinarians."
For a more detailed account of each story, photos of the nominees, or to vote, visit HamboneAward.com.