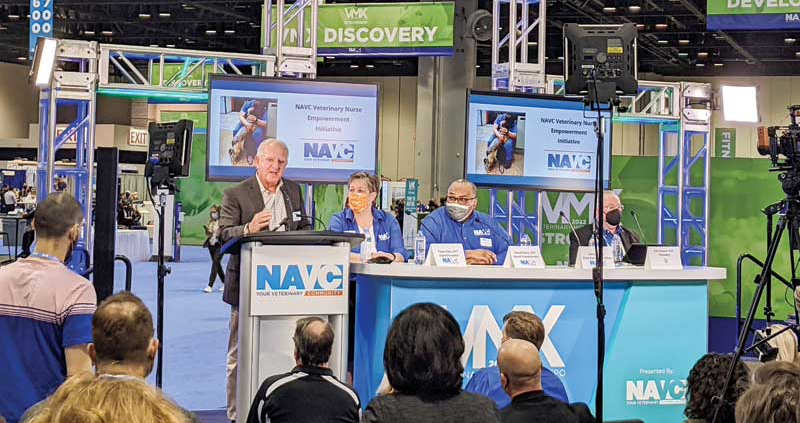 The North American Veterinary Community (NAVC), a Florida-based nonprofit organization dedicated to empowering veterinary professionals around the world, has launched the Veterinary Nurse/Technician Empowerment Initiative. Designed to elevate and advance the role of veterinary nurse/technician professionals within veterinary healthcare teams, the initiative is also intended to encourage the next generation to pursue careers as veterinary nurses/technicians.
"Veterinary nurses and technicians are essential members of our veterinary practices, and we see opportunity for the NAVC to help elevate their role, recognition and ability to contribute more," says Gene O'Neill, CEO of NAVC. "Our own research has shown their skills and experience are not being fully maximized within practices. With support from our board—of particular note, our immediate past and current presidents who are registered veterinary technicians—we know the NAVC can make a difference and have an impact on these important professionals."
The Veterinary Nurse/Technician Empowerment Initiative features seven programs to help veterinary nurses and technicians reach their full potential:
The Annual Global Veterinary Nurse Virtual Summit, Level Up: Veterinary Nurses & Technicians is held during Veterinary Technician Appreciation Week in October. A free virtual global summit aimed at helping veterinary nurses and technicians reach their full potential and elevate their careers through continuing education, it was first held in 2021 and focused on patient advocacy, behavior, pain management, and wellness.
The Veterinary Nurse Empowerment webinar series is a three-part series that discusses the challenges and issues facing the veterinary nurse and technician profession. The first interactive virtual sessions were held in March, and will end with a session at the Level Up: Veterinary Nurses & Technicians Virtual Summit in October. Topics will center around issues affecting the profession, including recognition and well-being; compensation and turnover; and utilization.
The NAVC Institute began in May, and includes hands-on workshops specifically designed for veterinary nurses and technicians. Professionals will experience several days of immersive, side-by-side learning with renowned experts in veterinary medicine. The first two new sessions will focus on anesthesia and behavior medicine.
The Veterinary Nurse Mentorship Program helps new veterinary nurses and technicians entering the field to learn and grow from seasoned professionals. The program, which offers a modern approach to a traditional mentor program, consists of a webinar series with five to 10 professionals serving as mentors to new veterinary nurses and technicians. These mentors will provide guidance in a virtual group setting on various topics, including specialties, conflict resolution, and role utilization.
The Career Advancement Guide Series and Career Guide is new series of features and columns being produced by NAVC's trade publications, Today's Veterinary Nurse and Today's Veterinary Business. Dedicated to personal and professional development for veterinary nurses and technicians, topics will include leadership, client communication and patient consultations.
Today's Veterinary Nurse "Clinic Champions" series will shine a light on the veterinary nurses and technicians who make a positive impact on their clients, patients, coworkers, and the greater community. In each quarterly issue, Today's Veterinary Nurse and Midmark Medical will honor a veterinary nurse for their contributions to community service, scholarship, advocacy, or innovation. Additionally, one of the four honorees will be recognized as the Clinic Champion of the Year and receive an all-inclusive trip to VMX 2023 in Orlando, Fla.
The National Consumer Awareness and Education Campaign is a first-of-its-kind national consumer awareness and education campaign sponsored by VCA Animal Hospitals, with support from the National Association of Veterinary Technicians in America (NAVTA). The year-long campaign will focus on the extensive education that veterinary nurses and credentialed technicians pursue, as well as the highly-skilled procedures they perform, including 16 specialty certifications. The goal is to change perceptions and attitudes among pet owners so they feel more confident and accepting of having a qualified, certified veterinary nurse or technician care for their pets.
For more information on these Veterinary Nurse/Technician Empowerment Initiative programs, click here.
Audrey Pavia is an award-winning freelance writer who specializes in pet and veterinary topics. She lives in Southern California with a menagerie of dogs, cats, and horses.