Suggested Veterinary Products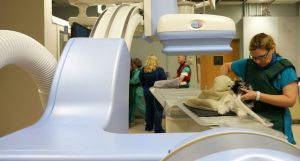 The National Association of Veterinary Technicians in America (NAVTA) has announced a 16th specialty academy for veterinary technicians, the Academy of Veterinary Technicians in Diagnostic Imaging (AVTDI).
The AVTDI comprises veterinary technicians who wish to perform higher-level diagnostic imaging, including digital radiography, fluoroscopic special procedures, CT, MRI, ultrasonography, and nuclear imaging.
The organizing committee for the AVTDI worked diligently to meet the NAVTA Committee on Veterinary Technician Specialties (CVTS) standards for the association's specialty recognition, according to Ed Carlson, interim chair of the CVTS.
The AVDTI joins the existing 15 NAVTA-recognized veterinary technician specialties: dentistry, anesthesia, internal medicine, emergency and critical care, equine nursing, zoological medicine, surgery, behavior, clinical practice, nutrition, clinical pathology, dermatology, ophthalmology, laboratory animal medicine, and physical rehabilitation.
The NAVTA CVTS, formed in 1994, provides guidelines to veterinary technician organizations to form specialties and assists the existing academies. Academies develop pathways and advanced standards that candidates must complete and maintain in order to be awarded the designation of veterinary technician specialist in a specific discipline.