Suggested Veterinary Products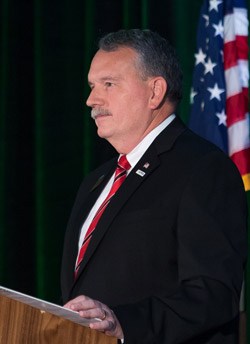 Promoting veterinary leadership, addressing federal veterinary workforce shortages, and leading the One Health initiative are the top priorities for Michael J. Topper, DVM, Ph.D. DACVP, during his tenure as new president of the American Veterinary Medical Association (AVMA).
Dr. Topper was among several new officers and other volunteer leaders installed during the AVMA's 2017 conference in Indianapolis, July 21-25.
John de Jong, DVM, president-elect, is to take over when Topper's term ends. Other newly appointed leaders for the AVMA include:
Arnold Goldman, DVM, MPH, CEM – Treasurer
Michael Whitehair, DVM – Board chair
Gary Brown, DVM, DACVS – Board vice-chair
Michael Q. Bailey, DVM, DACVR – Board of directors (District 2)
Jan Strother, DVM – Board of directors (District 3)
Ronald E. Gill, DVM – Board of directors (District 6)
The president, president-elect, and board chair and vice-chair serve one-year terms; the treasurer and individual board members representing each district serve six years.
"Our volunteer leaders are absolutely critical to our success," said Janet Donlin, DVM, CAE, AVMA CEO. "We are incredibly thankful to our outgoing leaders for their diligent efforts and look forward to the wonderful work of our new leadership."
Contested 2018 president-elect position
Two veterinarians have announced their candidacy for the 2018 AVMA president-elect slot. Angela Demaree, DVM, and John Howe, DVM, will campaign for the role over the next year; the election will take place in July 2018 at the 2018 AVMA Convention in Denver. Dr. Demaree, an Indiana veterinarian and major in the U.S. Army Reserves, currently serves on the AVMA State Advocacy Committee. Dr. Howe, of Minnesota, is a mixed-animal practitioner who represents District 7 on the AVMA Board of Directors.