Follow Veterinary Practice News on Twitter at @vetpetnews
Veterinarians from the University of California, Davis recently treated a goose that had eggs she was unable to pass. The goose, named Prophet, has been living at Farm Sanctuary in Orland, Calif., for the past 16 years.
On a visit to Farm Sanctuary, faculty and resident veterinarians with U.C. Davis' Companion Exotic Animal Medicine & Surgery Service could feel firm structures in Prophet's coelomic cavity. The concern was possible egg binding, meaning Prophet was unable to pass eggs she had formed.
Farm Sanctuary allowed the veterinarians to bring Prophet back to the Veterinary Medical Teaching Hospital for further diagnostic evaluation. Radiographs clearly showed the structures were eggs that she was unable to pass, but exactly where those eggs were in her body was the big question, according to U.C. Davis.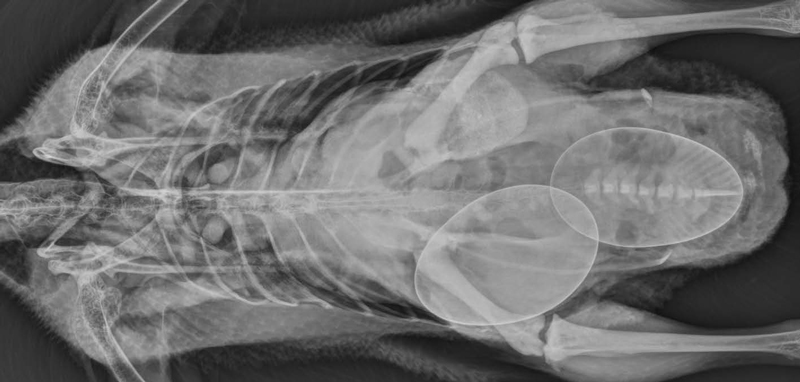 UC DAVIS
The radiograph that clearly showed Prophet had eggs she was unable to pass.
Specialists from the Diagnostic Imaging Service consulted with Prophet's veterinarians over ultrasound images to see if they could determine if the eggs were in her oviduct or were free in the coelomic cavity. The images proved inconclusive.
Due to concerns about Prophet's declining health, signs consistent with egg binding, and a history of reproductive issues, it was recommended that she undergo a salpingohysterectomy under general anesthesia. The surgery was successful. Veterinarians found and removed not two, but three eggs free in her coelomic cavity.
Prophet's post-surgery treatment included anti-inflammatory and pain medications, as well as a regimen of antibiotics. She was hospitalized at the teaching hospital for six days.
While Prophet's oviduct was removed, her ovary was left in place due to the risks associated with removing avian ovaries, according to U.C. Davis. With an ovary present, there is potential for ovulation and egg formation, even if the rest of the reproductive tract no longer exists. To control this, Prophet was placed on hormone therapy.
Prophet's veterinarians had been researching the effects of hormone-controlling implants in quails. 4.7 mg implants were controlling hormone production for two to three months, and 9.4 mg implants lasted for up to six months.
While the effect of the implants in geese had not been fully evaluated, veterinarians were confident it would help to control Prophet's hormones, U.C. Davis reported. She was given two 4.7 mg implants. Future evaluations of Prophet's implants showed lasting success.
U.C. Davis veterinarians have now been able to expand their research on the implants to not only include geese, but cockatiels as well.