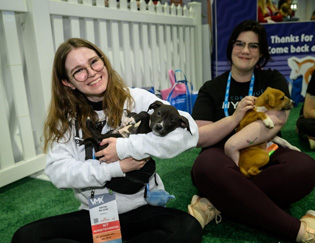 A commitment to equip veterinary professionals with tools to provide better patient care was highlighted through the healthcare trends unveiled at the veterinary expo.
The North American Veterinary Community (NAVC) concluded its 40th annual Veterinary Meeting and Expo (VMX) on Jan. 18 at the Orange County Convention Center. The multi-day event saw several introductions and demonstrations of new veterinary healthcare innovations.
Specifically, trends in noninvasive procedures to diagnose and treat cancer, heart disease and pain management, microsurgery procedures on pocket-sized animals, novel approaches to treating aging as a manageable disease, and the critical role veterinarians play in preparing for and addressing future pandemics and their spillover effect topped the conference agenda.
"The reach of the veterinary industry has exponentially expanded over the past four decades and the commitment to providing the very best healthcare to animals of all kinds has been on full display at VMX 2023, from record attendance, education sessions, exhibits, and the incredible excitement we see everywhere," says Gene O'Neill, NAVC CEO.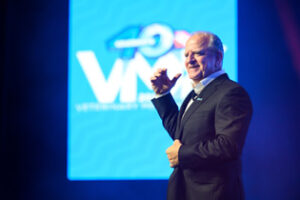 "The really exciting thing about VMX is that it takes place in January, and it really helps veterinarians, veterinary nurses and technicians kick off the year," says NAVC's chief veterinary officer, Dana Varble, DVM, CAE. "We come here, we learn about new technologies, new medications, new methods to treat animals, and we take them back to our clinics, knowing we have a whole year to introduce these things to our practice. What that really means for pet owners is we have new ways to help them and their pet live a longer, happier life together."
A sustainability initiative aiming to reduce carbon footprint within the industry,  and a community-based live event program focusing on topics and trends of interest in local veterinary communities across the country was announced by NAVC at the expo. These events will aim to tackle different needs of the veterinary industry, including patient treatment and the needs of industry professionals.
Registration for VMX 2024 is now open. For more information, click here.